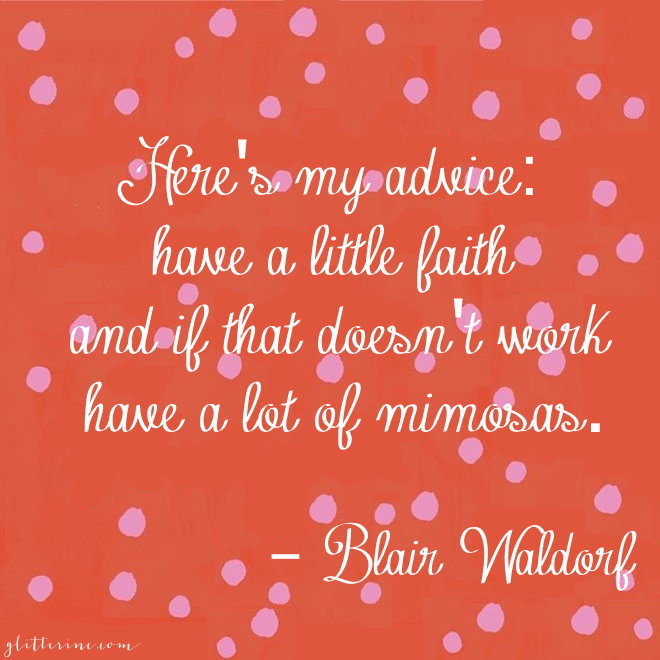 Sometimes I'm not good at taking a deep breath and having a little faith.  I get nervous, and type-A and I want to plan and control every little thing.  Not only is it not healthy, but it's usually pretty fruitless, especially when some things just are out of my hands.  I've been worrying myself sick over the launch of the new site.  But as I talked with blogging friends (I love you all!), and did a bit of research, I realized, the design and re-launch process is slow, and a whole lot of work.  And guess what?  I found a developer – who has it all under control.  And for the first time in weeks, I stepped back and decided to let it happen.  Well, the technical side of things, that is.  You can't imagine how good it feels to just let go and trust.
And here's the fun part, my new site, Glitter, Inc. (completely under construction as of now), the one I've gone on and on about for weeks, months, dare I say years, is finally happening.  We're bringing this site up to date, and it's going to be beautiful and shiny and new, and 100% reader-friendly.  I'm merging my two beloved blogs (Glitter & Pearls and Glitter Weddings) into one big beautiful interactive site, and you're going to get it all.  In the meantime, I'm preparing in all the good ways, which brings me to a two-part question for you all …
Does anyone work with any companies that can offer some great giveaways?
Do you have a store or business with something you'd love to give-away?
I have a few fantastic giveaways already lined up – the kind I really really want to keep for myself, though I promise I won't – but I thought I would open up the floor to you, my amazing readers, to see if there's anything you would love for me to giveaway!
And thank you – love you all!
Image Design by Glitter, Inc.