I have been lusting after the Chloé Susanna Studded Booties for years now (seriously, I think this love-fest dates all the way back to 2009.) Years, I tell you. A quick Google search and you'll see why I'm so obsessed. Sometimes also referred to as the Chloé "Susan" or "Suzanna" ankle booties, these studded booties are highly sought after, and highly expensive. And while I've always been a girl willing to set aside her pennies for a truly dreamy handbag or pair of sunglasses, I've always struggled to invest too much in a pair of boots I know I am going to wear into the ground. I live in boots and wear them out. The only real boot exception I have made is for the Stuart Weitzman 5050s – and I got them on sale. But I can easily tell you that that was a great investment; they are just the most flattering over-the-knee boots for shorter girls you'll ever find (slimming, luxe, so comfortable … I could go on an on. Can you tell I'm obsessed?) Back to the studded Chloé dream boots. Not in my wildest dreams could I justify a nearly $1,400 price tag for a pair of shoes. The SW's were half that (and let's not forget my discount.)
I had heard rumors about a pretty good look-a-likefor the Chloé booties by Choies, and after seeing Kristina talk about the Choies studded booties in her November Favorites video, I finally decided to take the plunge. Now trust me, even at $129.99 – which I'll admit is a far cry from the $1,350 price tag of the real deal – I was still hesitant to shell out more than a hundred dollars to a website I have never ordered from, knew nothing about, and in the hopes that the boots didn't look totally cheap. I didn't expect a perfect Chloé Susanna copy, but I was also dreading a pair of shoes that smelled like tire rubber and fell apart after one wear. I couldn't have been further from the truth with my crazy shopping doubts.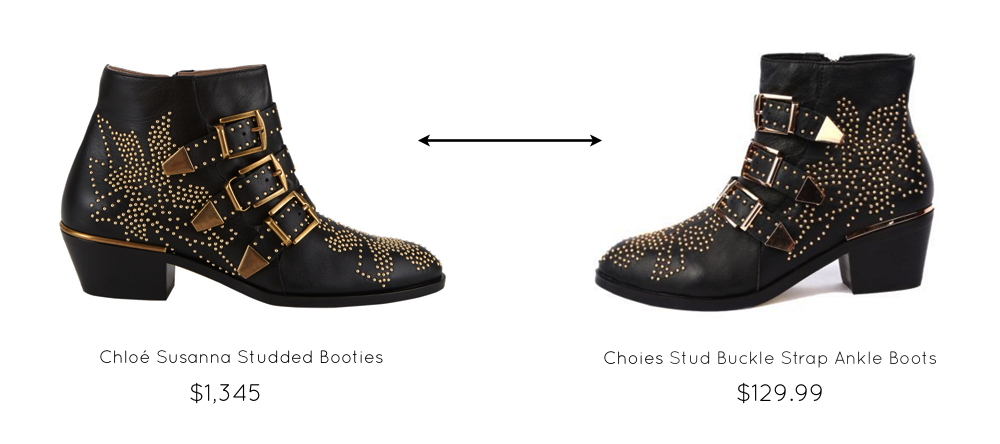 Chloé Susanna Studded Booties, Barney's ($1,345)* vs. Choies Retro Rivet Metal Buckle Pointed Boots ($129.99)
The Choies version were everything I had hoped for and more. Choies Retro Rivet Metal Buckle Pointed Boots are made out of real leather and are covered in gold rivets. The Choies studded booties version also happen to be ridiculously comfy – something I was not expecting. The quality of the Choies is not at the level of the Chloé Booties, the leather is not as buttery soft and the studs are lighter-weight, but on it's own, the Choies studded booties really stand out as a gorgeous boot. Hubby always jokes that when we go out and I get a compliment on something I'm wearing, I "beam," well I haven't stopped beaming in these little studded booties. They're showstoppers.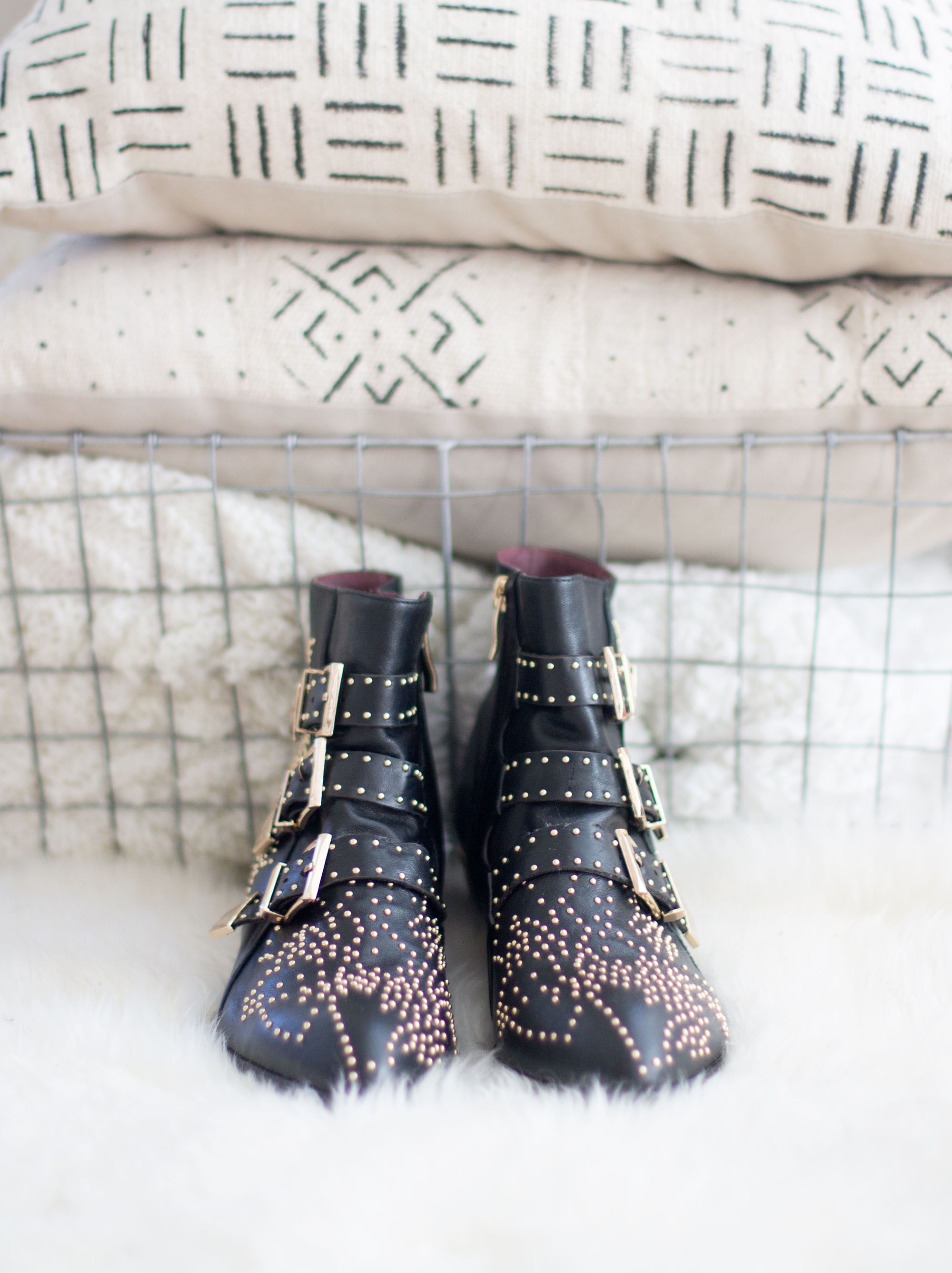 Maybe someday I'll snag the real Chloé booties, but in the meantime, I'm happily prancing around in my copycat Choies studded booties.
*The Chloé's are also available at S|SENSE, Net-A-Porter
, Forward by Elyse Walker, Barney's, Stylebop, Shoescribe, MyTheresa, Editorialist, and Saks Fifth Avenue.
See more from "The Look for Less" series, here.