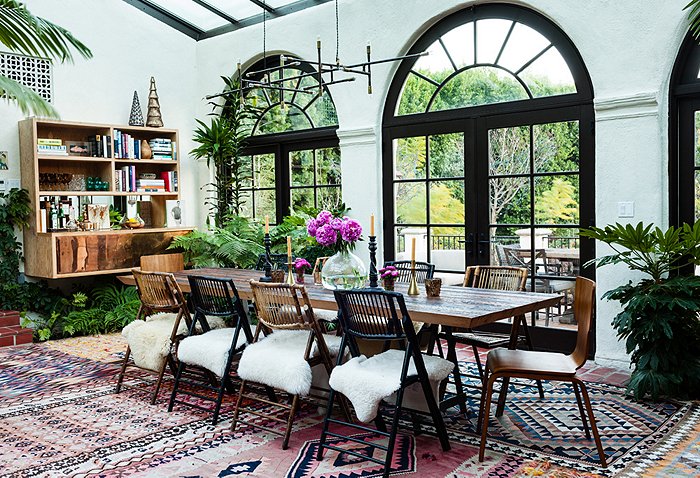 Full-time mom and part-time actress, Katie Tarses, lives in this jaw-dropping 1931 Spanish-style house in the Hollywood Hills with her husband Matt, a TV writer and producer, and their three kids.  Her eclectic style features mid-century touches and free-spirited boho chic elements, all the while remaining resolutely family-friendly.  "My home is colorful and casual—nothing's ever too formal or precious," says Tarses.
From the staircase covered in gorgeous Spanish tiles, the well lit solarium filled with bohemian accents, patterned rugs, sheepskin throws, a hacienda-style wood ceiling, a great barware collection, to the lush potted plants, this home is carefree, colorful, and warm.
Of her home aesthetic:  "I'm constantly moving things around to make my space seem fresh," says Tarses. "I might stack books on my coffee table to give an item some extra height, then I'll move them to my mantel and set candles and a plant in their place."
"I collect items I love—with bright colors and interesting stories—and rarely get rid of anything because there's nothing better than that eclectic, layered mix that develops over time."
I'm particularly smitten with the kids' rooms.  A reclaimed wood couch pairs perfectly with a Benjamin Moore chalkboard painted wall, throw pillows covered in mood fabric, and a formerly silver Ikea bunk bed painted tomato red to match, for the boys room.  Baby girl's room is painted with bright pink walls, a teepee, a pink chair that Tarses has rocked each of her kids asleep in (and re-upholstered for each child), while a jute carpet warms up the large space.
Ready to move in?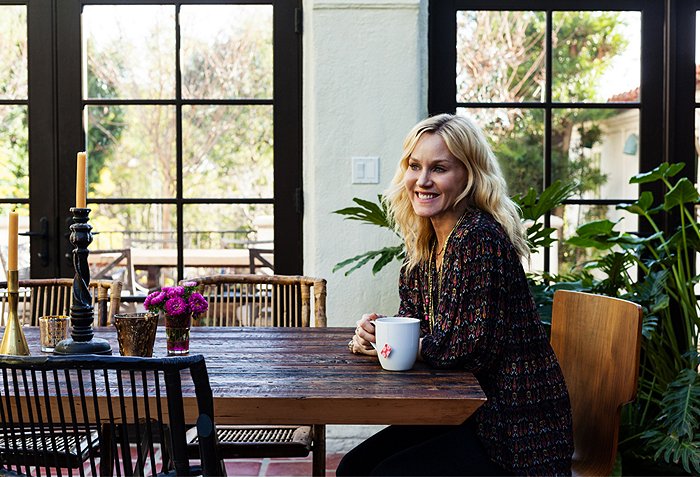 Via One Kings Lane // Photography: Nicole LaMotte