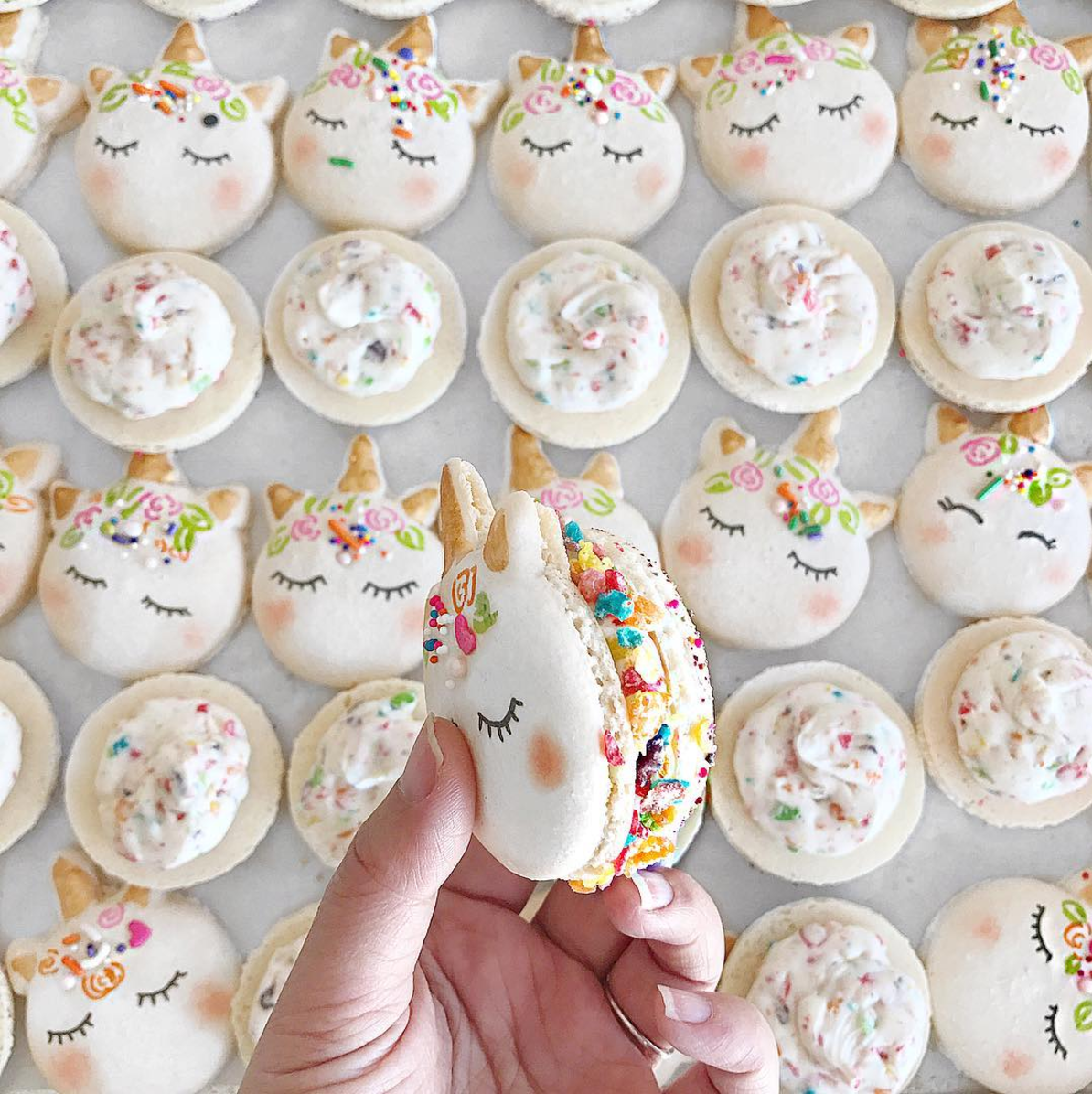 All the fun plans we had for the weekend might get kicked to the curb by one very large snowstorm. Granted, it's no Northeastern storm, but everyone in North Carolina is freaking out. Which means: this Miami girl is hunkering down. Hubby is at the hospital ALL weekend – safer to keep the docs there than driving around trying to get to and from the hospital I suppose. (Sad face.) Lucky for Scarlett and I, we have cozy pj's, movies on the DVR, and I'm in a baking mood. Anyone think I can master these unicorn macarons? haha, yeah, me neither. Though I do have a bit of an obsession with macarons; Exhibit A: oreo macarons and Exhibit B: strawberry cheesecake macarons.
I'll be sharing what we're up to throughout the weekend over on instagram, facebook, twitter, and snapchat → glitterinclexi (lots of fun behind-the-scenes there) and I'm taking movie recommendations. (By the way, in case you're stuck home all weekend, these are my favorite shows to binge-watch on Netflix, Hulu, and Amazon Prime.)
How about you? Any exciting weekend plans?
With that, a few little love notes …
Dear new year goals, 5 ways I plan to be happier this year.
Dear sweet dreams, unicorn macarons might just be the most effing magical dessert you've ever seen.
Dear Bachelor fans, I wanna hear your thoughts on Nick? Are you happy with the pick? Do you think that poor guy will find love already? Is he kind of a man-whore?
Dear love at first sight, the prettiest gold-dipped quartz crystal air plant pots to add a little green and glam to your home in the new year. (And they're just $15!)
Dear city eats, these are the 21 best brunch spots in America, according to Thrillist. Did your fave make the cut?
Dear brain, here are 10 extremely precise words for emotions you didn't even know you had.
Dear shoe love, five steps for helping your leather boots get through the winter.
Dear fellow grownups, on making new friends as an adult. (a.k.a., playdates are for mom dates.)
Dear bath lovers, make this DIY lavender "tub tea", because Martha said so.
Dear weekend baking, the world's easiest cinnamon rolls.
Get the origins of these sweet little love notes, here, and catch up on love notes of the past.
image via Mac Lab Bakery (@mac_lab)
This post contains affiliate links, which means that if you click on one of the product links, I'll receive a small commission. Thank you so much for clicking through and helping to support this little blog business of mine! Read more about our site, privacy, and disclosure policies here.