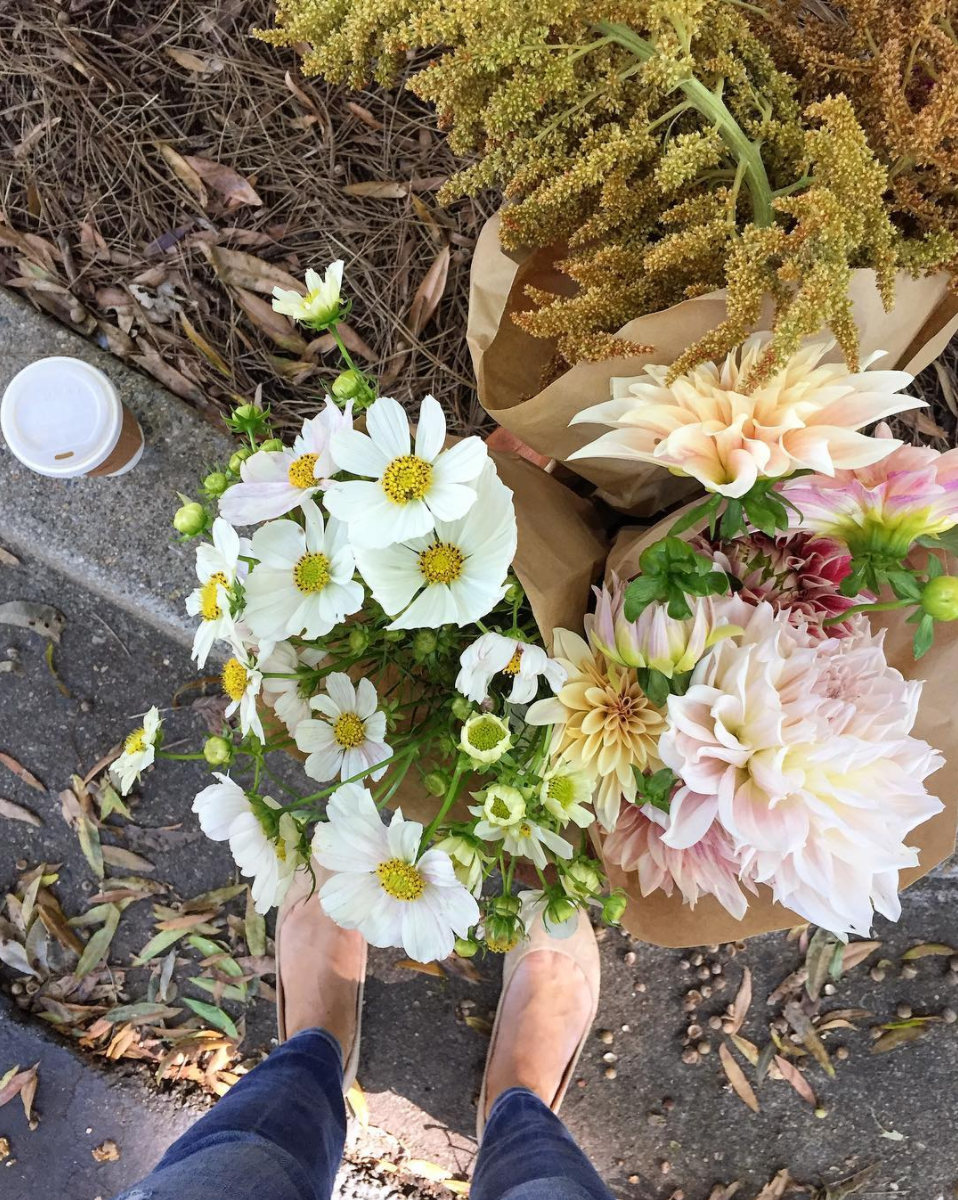 Happy weekend! I've been SO looking forward to a little break and I fully intend to take one this weekend. Hubby has been on nights the last two weeks, plus he's been diving head-first into his research, so the couple of hours he's home each day, he's typically falling asleep on the couch, and it's been mostly just me and Scarlett. I've had styled shoots, meetings, a blog consult, and I haven't even begun to plan for Thanksgiving – which is next week (ahhhh!) And Scarlett – well, she's a toddler – and asks me to kiss her "ouchies" every three-and-a-half seconds and if my kisses aren't fast enough or are insufficient in some way, she throws herself to the ground dramatically and can only be distracted by some kind of snack or puzzle, requiring me to get up … again. The life of a work-from-home mama is SO glamorous. Back to that whole Thanksgiving thing: I'm recycling a few favorite recipes and adding these candied cinnamon-roasted almonds, fan-favorite pecan pie shooters, and apple crisp shortbread bars into the mix for our second annual Friendsgiving here in North Carolina. (You can check out last year's here.) And I'v got gift guides and so much fun holiday content coming your way! Busy, busy, I tell 'ya. I'll be sharing what we're up to throughout the weekend over on instagram, facebook, twitter, and snapchat → glitterinclexi (lots of fun behind-the-scenes there). Follow along!
How about you? Any exciting weekend plans?
With that, a few little love notes …
Dear Turkey Day words of wisdom, how to have an (actually) chill Thanksgiving.
Dear end-of-week pick-me-up, this makes me the happiest.
Dear holiday hair plans, a simple yet festive braided bun (you'll love.)
Dear tech-obsessed, would you try this airplane mode challenge?
Dear big apple, you've grown up quite a bit! Here's what New York City looked like 100 years ago, compared to now.
Dear brain, scientists have found 10 extremely precise words for emotions you didn't even know you had (but often do.)
Dear weekend uniform, the sleeves on this sweater have me crushing big time.
Dear dating jitters, anyone else do this cute first date ritual? (Moms are the best, aren't they?)
Dear weekend baking, pumpkin chocolate slab pie.
Get the origins of these sweet little love notes, here, and catch up on love notes of the past.
And, don't forget to enter our HUGE Black Friday and Cyber Monday GIVEAWAY:
This giveaway ends on 11/23 and the winner will be announced on or before 11/25. Must be 16 years old (or older) to enter. International entrants welcome. Please keep in mind that you cannot complete more than 66 entries and that we can tell if the same person uses multiple emails to enter. All entries will be verifies, so make sure to hit "FOLLOW" or "LIKE" to complete each entry.
image via @jacinfitzgerald
This post contains affiliate links, which means that if you click on one of the product links, I'll receive a small commission. Thank you so much for clicking through and helping to support this little blog business of mine! Read more about our site, privacy, and disclosure policies here.