This year, Valentine's day sort of bit me on the butt.  Pardon my French.  And I'm a tad rattled about it being so early on in the marriage, sans romantic love day plans.  But you see, last Valentine's day, only a few short months into our marriage, I went and got sick.  Surgery, couture wearing, hospital sick.  So this Valentine's Day, I told myself, we'll have a perfectly romantic well-thought-out evening.  (And yes, to me, romance, is generally thought-out.  I'm not a fly-by-the-seat-of-my-pants kind of girl — can't you just hear Julia Roberts in Pretty Woman saying that?  Type-A, all the way.)  But I digress.  And then it was Tuesday … the 14th … of February.  And I had no plans.  So here we are.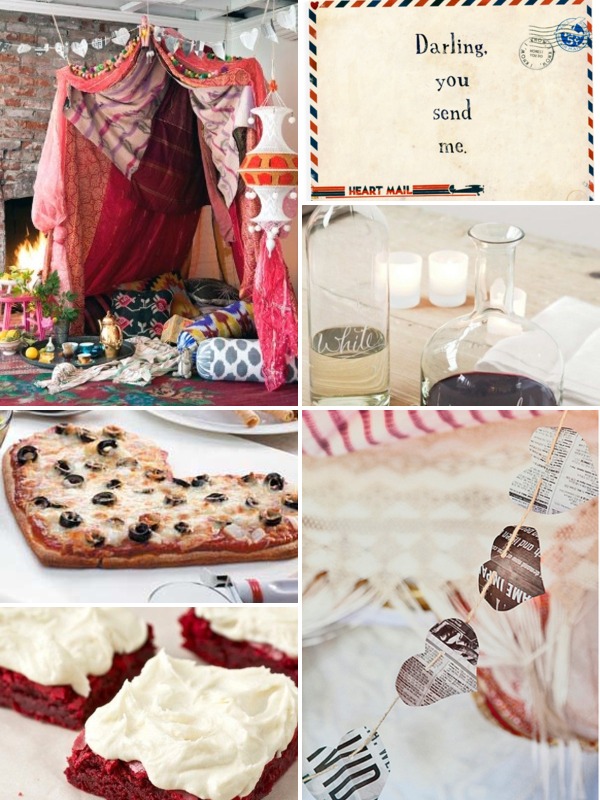 Be My Valentine Homemade Pizza Recipe:  If I have time, I will definitely be trying this tonight.  (The recipe even calls for refrigerated pizza crust – my kind of easy.)  If not, it's good old circular (greasy) pizza for the hubs.
Etched Vino Decanters:  Oh so pretty; however, ours will come in a bottle.  Hey, at least it's not a box.  Not that there's anything wrong with that.
Red Velvet Brownies with White Chocolate Buttercream:  These have been on my to-do list for months.  Here's to another year … on the to-do list.
Also on my to-do list – sweet card, cut-out newspaper hearts, and the world's most phenomenal tent/fort/hybrid.  I coo-ed over that tent last Valentine's Day, and this year is no exception.**  Only this month, I'll be recreating said tent with towels, stacks of pillows, hair ties, and broom.  I'm willing to bet on disaster.
If all of this falls through, I'm taking my man to Waffle House.  (Seriously, major fast food chains are offering romantic Valentine's Day packages, complete with candlelight and tater tots.)
Tent, Hearts, + Card via the ever-talented: Justina Blakeney for Design*Sponge
** Sadly – last year – once I read fishing line and screw hooks, I retired from fancy fort-making.  My brilliant plan that time, "I'm going to sit on my sofa with a blanket over my head."