Now that we're well into summer, it's most definitely time to start throwing backyard bashes, and first on my list: a backyard movie night! The goal is to take that movie-watching party outside. I've always been a fan of movie nights – pajamas, popcorn, wine – what's not to love? But taking the festivities outdoors gives the summer movie night a whole new twist, and a lot more space to decorate.
Plus, rumor has it, winter is real. Blame many many years of eighty-degree winters in Miami where I grew up, but I'm half-excited, half-terrified of an impending cold season. The terrified part is soaking up all summer has to offer, and planning family-friendly parties, you know, just because. After years of swooning over well-crafted outdoor movie nights and saving the ideas onto my someday party list, I think it's high time I get to planning one of those outdoor movie nights of my own.
I love the idea of creating an outdoor bohemian vibe for a movie night: blankets and cushions to spread out on the floor, string lights, good snacks and drinks, and a stack of terrifically bad 90s movies.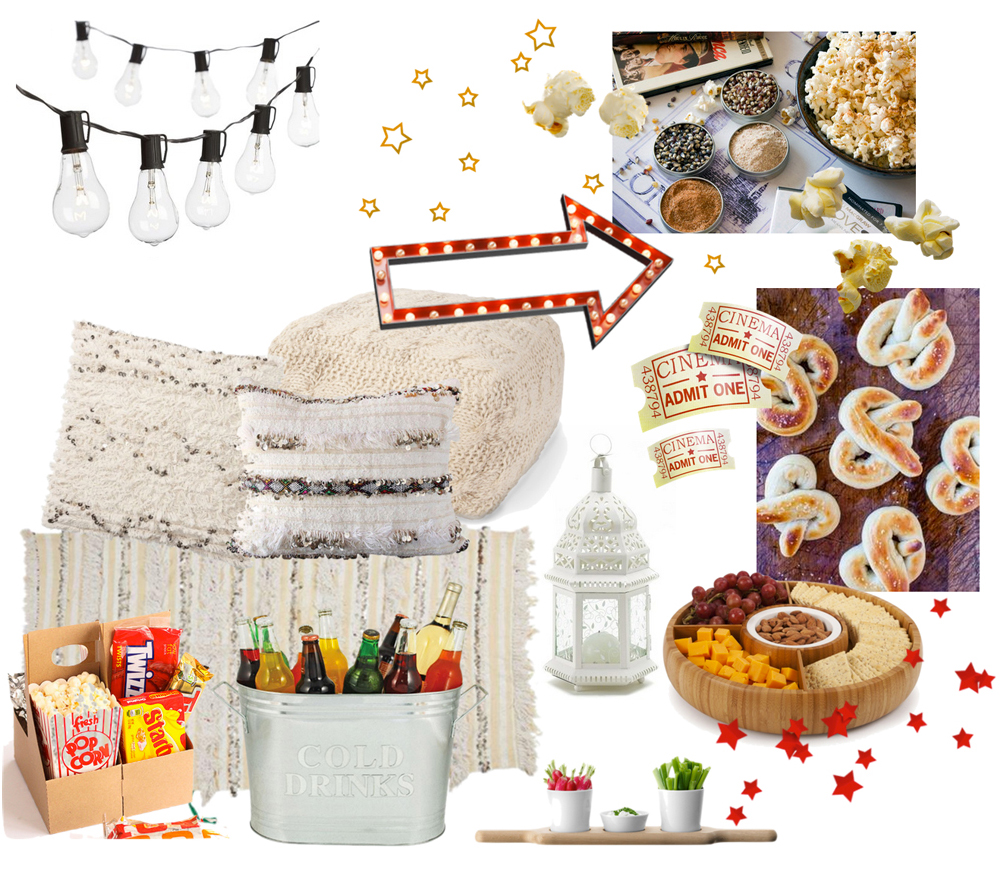 Vintage Bulb String Lights  | Popcorn | Pretzels | Moroccan Wedding Blanket Pillows, here and here | Pouf | Handira Wedding Blanket | Kraft Drink Carriers | Drink Bucket | Paddle Dip Set | Moroccan Lantern | Bamboo Chip & Dip Bowl
What You'll Need to Host an Outdoor Movie Party:
an outdoor movie projector
a blank wall or hanging blanket/sheet/dropcloth to project onto
cushions, blankets and chairs for your guests to sit on (loving these Mexican blankets!)
snacks (buy a bunch of boxes of movie theater candy from your local drugstore – they're usually on sale for around $1 each; pre-pop popcorn and put into bowls or paper bags so that everyone can easily grab some; serve other easy/fun summer foods (soft pretzels, veggies and dip, mini pizzas, an ice cream bar, nuts and chips, the list goes on an on)
drinks (craft beer, wine, sodas and bottled water)
fun touches like movie tickets and/or personalized concession boxes (optional)
movies
So tell me: what parties are you throwing this Summer? Would you a host an outdoor movie night?