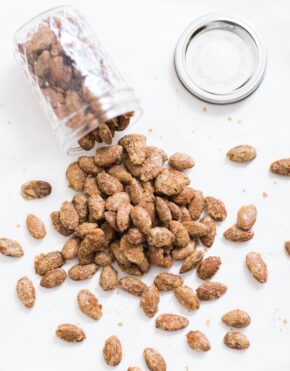 Candied Cinnamon-Roasted Almonds
These warm, fragrant and delicious candied cinnamon-roasted almonds taste JUST like the kind you get from a cart on the boardwalk, at a fair, or on the streets of New York City, but you can make these right in your own kitchen. They're perfect for serving before a holiday party and even better when made in big batches for homemade gifts!
Ingredients
1 egg white
1 teaspoon cold water
3 cups whole unsalted almonds (or pecans or walnuts)
1/4 cup white sugar and 1/4 cup brown sugar (or 1/2 cup white sugar)
1/4 teaspoon salt
1/2 teaspoon ground cinnamon
1/4 teaspoon nutmeg (optional)
Instructions
Preheat oven to 250 degrees F (120 degrees C). Line a baking sheet/pan with parchment paper.

Lightly beat the egg white; add water, and beat until frothy but not stiff. Add the nuts, and stir until well coated.

Mix the sugar, salt, cinnamon, and nutmeg (optional, but highly recommended), and toss with the nuts to coat. Spread nut mixture evenly onto the prepared pan.

Bake for 1 hour in the preheated oven, stirring occasionally, until golden. Allow to cool, then store nuts in airtight containers or jelly jars.
Notes
*This recipe is perfect for so many different kinds of candied nuts; we've done almonds, pecans, walnuts, and nut mixes of all three.
Recipe by Glitter, Inc. at https://glitterinc.com/how-to-make-candied-cinnamon-roasted-almonds/