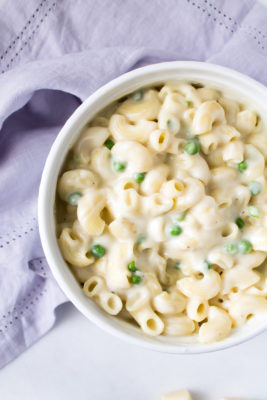 Goat Cheese Macaroni and Cheese with Peas
This recipe for goat cheese macaroni and cheese is deliciously creamy and cheesy, with a just right tangy spin on the classic brought to the dish by the goat cheese, a touch decadent (because, mac 'n cheese!), with a perfect brightness added by the peas.
Goat Cheese Macaroni and Cheese with Peas is a surprisingly simple-to-make dinner or side dish and is totally YUM.
Ingredients
2 ½ cups macaroni pasta (or shells)
6 tablespoons butter
6 tablespoons flour
2 cups of 2% milk
1 cup skim milk
11 ounces goat cheese
4.5 ounces sharp white cheddar
¼ - ½ teaspoon pepper
¼ teaspoon salt
¾ cup peas (fresh or frozen)
Instructions
Bring a pot of water to a boil and cook the pasta according to the directions, subtracting a minute of cook time (they will cook more later). Preheat the oven to 375 degrees F.
Heat a large saucepan over medium heat and add butter. Once the butter is sizzling, whisk in the flour. Stir and cook for 2 to 3 minutes, until the mixture is thick and slightly golden. Very slowly add the milks by streaming them down the side of the pot little by little, whisking the whole time. Continue stirring and cook for another 5 to 6 minutes until slightly thickened.
Reduce the heat to low and stir in half of the goat cheese. Once the first half of the goat cheese is fully incorporated, add the second half and stir until it melts. Each addition will take about 5 minutes. Add the cheddar cheese and stir until all of the cheese is melted. Mix in the pepper and salt.
Stir in the pasta and mix until all of the noodles are coated in cheese sauce. Add the peas and stir to distribute evenly.
Spread the mac and cheese into an oven-safe casserole dish and bake for about 25 minutes. Serve right away.
NOTE: If you love a cheesy mac, you can also top with more cheddar before putting in the oven. The cheese topping will be golden brown and bubbly.
Courses Dinner, Side Dish
Recipe by Glitter, Inc. at https://glitterinc.com/goat-cheese-macaroni-and-cheese-with-peas/