I am in love with the bow-tie napkin.  Truthfully, I have a thing for great tablescapes and table settings.  I find myself re-arranging silverware at restaurants and inching cups, plates, and cutlery the right distance from one another.  OCD.  But that's a different story.  Bow-ties are preppy and cheeky and adorable all on their own, but when set on a great table setting, they're just genius. Don't lie – you know you wanna be best friends with a great tablescape.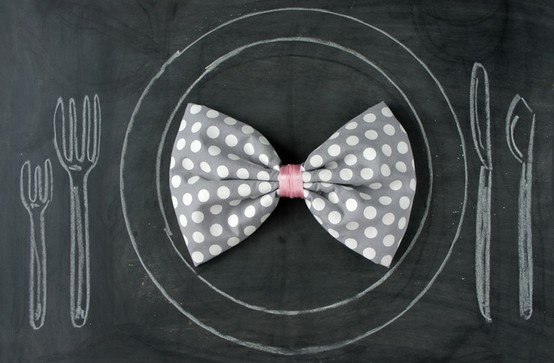 Hot Polka Dot has a fantastic DIY via Idle Wife with great instructions on how to re-create the bow-tie folded napkin.
For the bow fold:
1. starting with the napkin face down, fold the top and bottom edges in to meet at the middle;
2. then fold those top and bottom edges in again to meet at the middle;
3. finally, fold the long edges into the middle so they slightly overlap;
4. turn the napkin over and tie a ribbon, string, or twist tie around the middle, cinching it tight to create the bow. Fold and fluff as necessary.
More on that here.
And then there is the gorgeous Kate Spade inspired craft shoot put together by Sitting in a Tree and Enjoy Events Co. for 100 Layer Cake, featuring luxe black bow-tie napkins (and popcorn and confetti and awesome-ness). #swoon