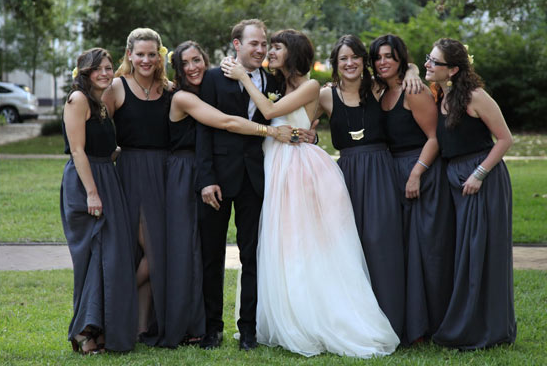 A year before the big day, nothing feels imminent, in fact, it feels anything but. You're engaged, you have a wonderful fiancé, and a brand new diamond ring to boot. Then the six-month mark rolls around and you envision stacks of delicate china crashing down on your head. For so many reasons, choosing the perfect bridesmaid dress seems to be a crucial, and undeniably tough choice along the endless line of wedding decision-making. From the most laid back bride to the bride who has an itemized list for everything, the picking of the dress (or dresses) can feel like torture.
For starters, there's a color scheme. Chocolate brown and Tiffany blue may look lovely on a table-scape or Save the Date card, but on a taffeta dress – not so much. And color invariably seems to be the theme most whined-about in the dress picking process. Your bridesmaids have a say, however small, and many say quite a lot. Then there is the issue of style. One friend may be happy to bare it all (or insist on baring it all despite your pleading), while another insists on sweater and tights. One bridesmaid is pregnant, while the other is a waif. You'll worry about the bridesmaid dress choice until the day of the wedding, and even then, many of us look back at pictures and think, "What was I thinking when I chose that color/cut/length?"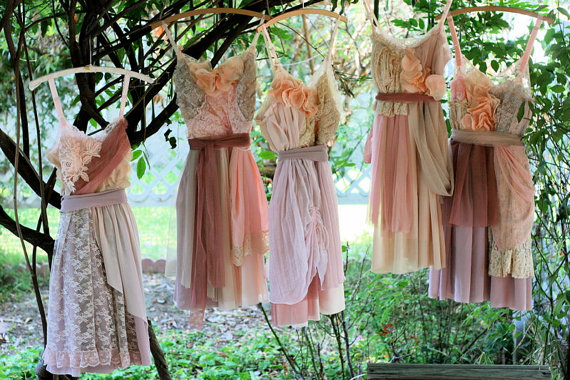 Research like crazy. Ask stores for permission to take photos of the dresses, that way you see what the fabric and colors look like under a camera flash, and also you can give yourself time to think about the options. Encourage several bridesmaids (preferably the more supportive of the group) to tag along and try on a few of your favorites. At least one bridesmaid won't love the dress you choose, but if you love it, go with it. You're the bride. No one will ever again let you pick their outfit, shoes, hair, and make-up, so why not?
If it's easier for you to function as a hands-off kind of bride, pick a dress and a general shoe color, and give your bridesmaids some flexibility on hair, makeup, and so on. Some brides opt for a dress color, fabric, and length, and then the style is up to each girl – giving bridesmaids the freedom to choose what dress works best for them. If you're worried a friend or two may not know what dress is right, tag along, make trying on bridesmaids dresses part of a fun pre-wedding girls day, this way everybody wins.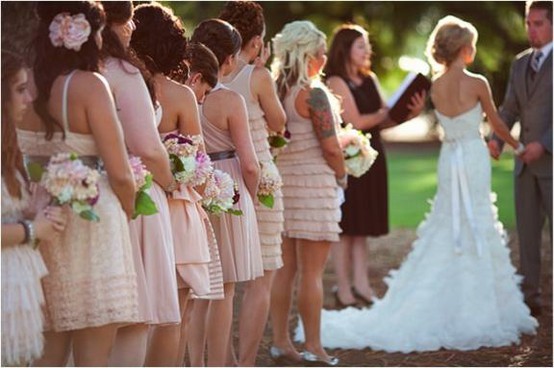 Be unconventional. A huge number of wedding boutiques and online retailers offer a vast variety of styles, colors, and fabrics, but there is no steadfast rule that says the dress has to fit a certain look. Try department stores and your own favorite clothing retailers for styles you love. Choose a sweet skirt and top for your bridesmaids if dresses don't fit your theme. Go with mixed prints or florals and add some real life to your pictures. Throw in an unexpected piece, like a belt or bold headband. Just keep in mind that when choosing a bridesmaid dress off the rack, styles sell out, unlike major bridesmaid dress carriers who keep a steady stock in endless sizes for the big day.
{Images via 100 Layer Cake, Armour Sans Anguish, & Events To A T; featured on Glitter & Pearls}