Baby girl's room is still very much a work-in-progress (which admittedly, may be cutting it close, considering she's due in about seven weeks … whoops!) but I wanted to share some of the inspiration we've been pulling together for her dream room.*
I knew from the start that I wanted something neutral, soft, and dreamy, with pops of black, gold, and subtle hints of very pale pink.  I tried to be wary of keeping the design from getting too black (because goodness knows if I could paint the world in black, I would … or at the very least, throw a black leather jacket on everyone.)  And black was a non-negotiable when I discovered these black-spotted crib sheets and this PB Teen clothing rack.  I also always wanted the room to have a notable French vibe, something very Parisian and chic, with vintage touches (along with a more modern white crib.)  I knew that travel and great vintage-inspired pieces had to find their way into the mix, and I figured roses would be the feminine flower touch of choice.  (By the way, so in love with the gold rose wallpaper that Oh Joy! designed for Hygge & West … if I didn't already know we'd be moving in less than a year, I would have absolutely covered at least one wall in that paper!)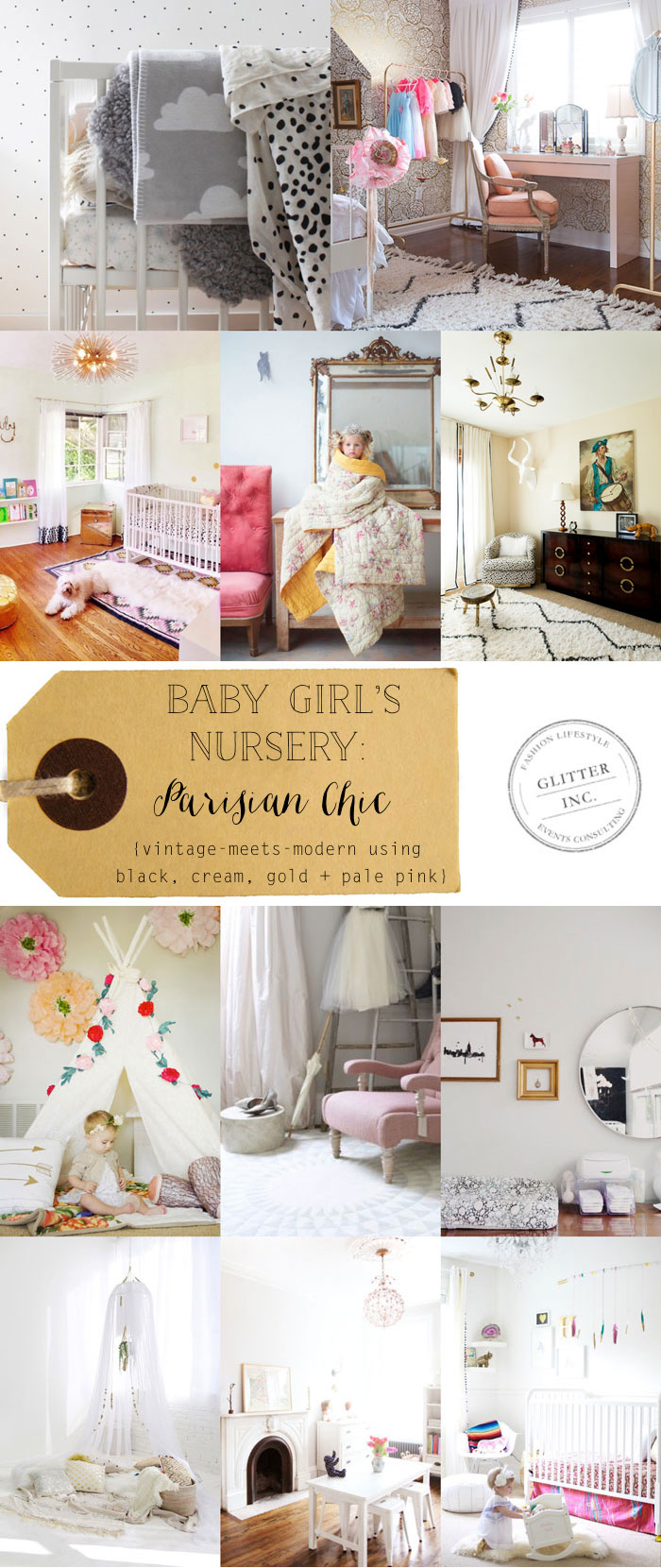 We still have a ways to go, and I've certainly had moments of hormonal panic where I'm convinced baby girl will have nowhere to sleep when she arrives, but the furniture is on order, and I have friends and family ready and willing to help with the set up, when everything finally does arrive (be warned:  baby furniture can take anywhere from 2 to 10 weeks to arrive!).  Plus, if I'm putting up prints and decor touches after she's already made her big debut, odds are, no one will be the wiser.
You can see all of my nursery inspiration, here.
*The amazingly talented Katerina of Lex & Liv has been helping me rein in all of my nursery ideas, and she'll be sharing our incredible style board soon.  (In the meantime, you can also check out the Pinterest board she created for baby girl's nursery, here.)  And then … fingers crossed … we'll be on to the finished product!
Images via Mackapar // Christine Dovey // Apartment Therapy // House of Bliss // Sofa.com // Style Me Pretty // Design Love Fest // The Glow // 100 Layer Cakelet // Project Nursery