Diane Keaton, Oscar-winning actress, is nothing if not classic. She also happens to be a design/renovation queen (in real life.) That's right, not only does she get to act in some of our all time favorite homes from movies (remember the stunning houses in Something's Gotta Give and Father of the Bride?), she also buys and renovates her own stunning homes. Over the years, she's renovated and sold houses including a 1926 Wallace Neff-designed Spanish-style place in Beverly Hills and the Lloyd Wright-built Mayanesque landmark Samuel-Novarro House in Los Feliz.
"One thing I really can't stand is thinking that anything is set in stone," she says. "I don't ever want to live like that."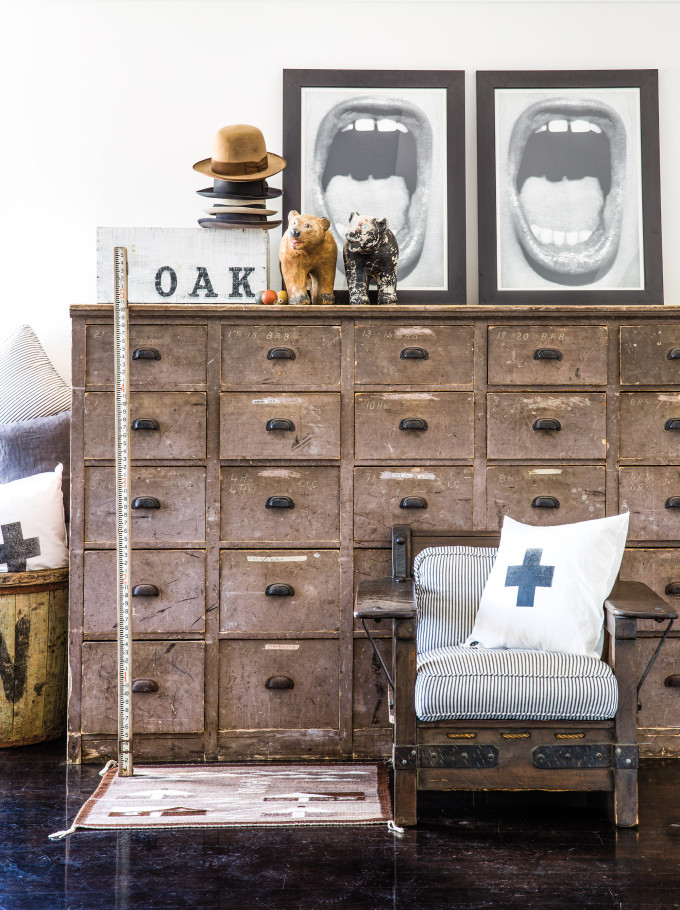 Her current beauty, a traditional Connecticut-style shingled farmhouse set off a windswept bluff in Pacific Palisades, was one she actually wanted to rent, but then of course, the design bug struck, and she knew it had to be hers. (Meanwhile, Diane is also currently in the process of building a ranch-style compound on a lot in Sullivan Canyon. Because yeah, the actress, author, fashion icon, and architecture and design enthusiast is just that cool.)
Her style also happens to be a very strong, sartorial all black-and-white aesthetic, which makes me love her all the more.
"People [should be] the color in a home," she says.
The design itself is full of antiques and eccentric curios, rustic decor, a few industrial statements, Pop Art, polka-dots (one of Diane Keaton's signature patterns, it seems) and stripes, fresh flowers, an unbelievable collection of photographs (even one awesome Bruce Weber portrait of a young Matt Dillon among them. "Of course Matt Dillon," she says. "He's gorgeous.")
"I'm on that Internet all the time and just stealing ideas," she says of the collection. "I'm a thief. And I have a lot of romantic dreams of what people hope for in a home, so it's very moving to me."
"To me it's magical to see how different things look in different places. I think that's [how] we have to look at ourselves: Put us in a different place, we're different."
Be sure to read all about Diane Keaton's incredible cool Pacific Palisades house, including her design process, her plans, etc.
via C Home // Photographed by Lisa Romerein