This post is promoted by Target (a brand that I love!)

I love makeup, especially the classics: cat eyes, creamy skin, a swipe of red lipstick. My sister happens to be amazing at applying makeup and I regularly refer to her for, well, everything. My mom is quite the opposite, barely wearing a stitch of makeup and looking so very much in her element always. But I adore makeup, even with my limited repertoire. I love everything about it. I love the ritual of putting it on in the morning, shopping for it, discussing tips and tricks with my friends and sister.
I'll be the first to admit I'm a bit vanilla with my makeup choices: black eyeliner (always), a coat of mascara, a bit of concealer under the eyes, two swipes of soft pink blush, and I'm out the door. Lately though, I've forced myself outside of my self-imposed makeup box. I've been trying trends, often thanks to the help of my sister and some very helpful YouTube tutorials, and I'm on the hunt for more. Summer makeup is a tough one to tackle for most. You want to keep your Summer makeup natural looking, while still embracing those Summer brights. Take color, for instance; so beautiful in fashion, but tough to translate into makeup, especially if more complicated looks intimidate you (guilty). But I was determined to try a bit of color with a natural beachy vibe (because I am a Miami girl after all.)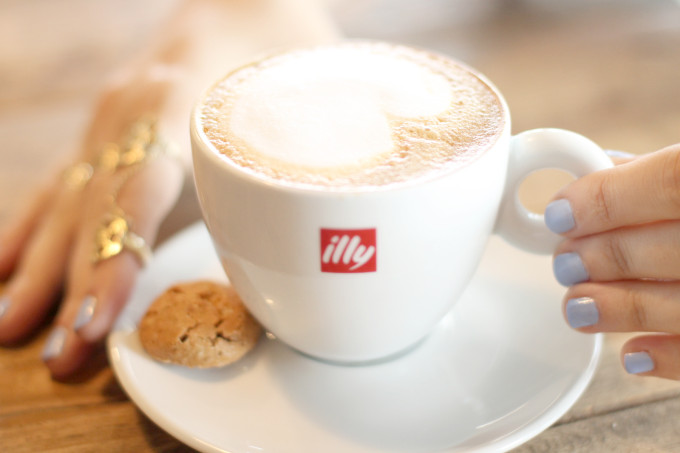 And then I took my look for coffee (because, coffee.)
I absolutely loved this shade of lilac/blue essie® Bikini So Teeny nail color – it's a nod to a cool beachy/sky blue with soft tones and a touch of shimmer that makes it perfect for summer. The polish formula also has a thicker opaque finish, which helps it to last and last: perfect for long weekends at the beach.
As for that blush stick, it's the Maybelline Face Studio™ Master Glaze™ Glisten Blush Stick and I am completely smitten. I studied the tube in the Target makeup aisle for way too long, doubting whether I could pull off a color called "Coral Sheen", but I was determined to give coral a try for the sake of summer, and so I went for it. I love makeup aisle decisions. Best decision ever. I am living in this blush stick. The color is deceptively delicate, and can be layered for added "pow," especially for a night out on the town, which I love. The blush stick packs liquid shimmer pearls and shea butter that just glides on and provides blendable blush color and smooth, even application. The coral is also that kind of color that works on every skin type, including my own shade of very pale olive skin. Such a win.
I'm also wearing Maybelline® Baby Lips® Moisturizing Lip Balm (my go-to Summer lip balm) and Maybelline® Volum' Express® The Rocket™ Mascara from Target.
Have you tried any summer beauty trends? Do you have a go-to Summer beauty look? 

Find your style @targetstyle.