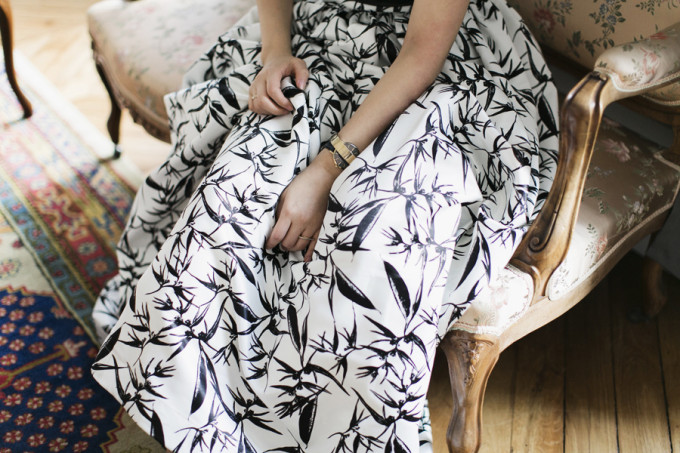 Dear Alice and Olivia ball gown skirt, I could really use an excuse for a ball gown right about now.
Dear secrets of a not-so-glamorous weekend, I'll actually be rocking harem pants and a tank top as I tackle my apartment organization.  This whole pregnancy thing has suddenly given me a burst of energy, and I plan to take full advantage.  First, we conquer the living room, next up: the nursery.  Wish me luck!
Dear Zach Braff, my heart broke a little watching your new trailer for "Wish I was Here" and I'm not even sure I know what the movie is about.  Either way, looking forward to a gorgeous soundtrack and story to match.
Dear prettiest printed maxi dress I ever did see, you should fit right into my Spring wardrobe.
Dear headed-to-a-music-festival, (1) I'm totally jealous, and (2) you need to make yourself a DIY flower crown, stat.
Dear baked chocolate donuts, if I make a batch, can I finish every last one of you (with the help of hubby, natch) before Monday night's Passover dinner?  (And then I swear we're flour free … cold turkey for the week.)
Dear Louis Vuitton … err, Michelle Williams, not sure who to blame here for leaving me drooling over the new Spring line of handbags and accessories.
Dear baby, this week, you're the size of an eggplant and my heart bursts at the thought of you and all your skinny eggplant glory kicking around in my stomach.  Mamas:  at what point did you start shopping for nursery furniture and registering for baby things?  (FYI: this week we hit 25 weeks.)
Follow along on instagram (@glitterinclexi) for behind-the-scenes pictures!
Image via Park and Cube // Skirt: Alice and Olivia