When hubby and I first moved into our little apartment, I quickly learned to embrace the dark accents and filled the space with hand-me-downs and rustic finds that we had picked up along our travels.  But sometime last year I realized, our apartment no longer reflected me, just this combination of stuff we had acquired at the start of our marriage all stuffed in a fairly dark apartment.  (Think dark wood floors, a dark kitchen, dark counter-tops and cabinets.)  And I dreamed of all white everything.
Hubby, being the great guy that he is, told me to just go for it, when I knew it was time to lighten and brighten our little space.  Of course, being the crazy busy girl that I am, I honestly didn't get around to really re-decorating our place until about a month ago.  (Pictures coming soon, I promise!)  I have been on the mad hunt for lighter, brighter, more glamorous pieces to update our home. These are a few of my favorite things …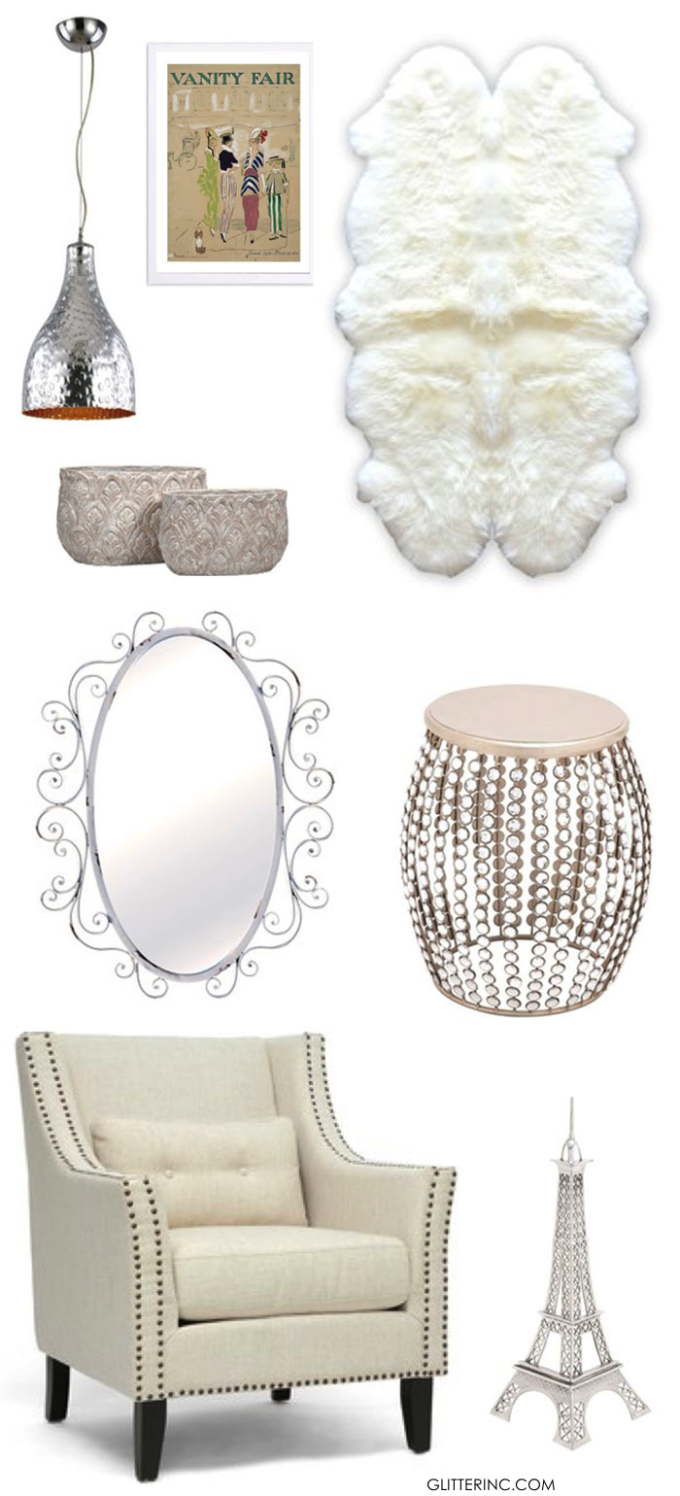 Get the Goods:  Hammered Chrome Gold 18″ Pendant Lamp in the TransGlobal Lighting Sale // The Art Cabinet Vanity Fair Framed Art in the Libation Celebration by Oliver Gal Sale// Sheepskin Rug via the Genuine Sheepskin Sale // Thompilson Oval Planters in the Jardin-Patisserie Sale // Metal Scroll Mirror in the Rustic Storage Solutions Sale // Silver Wood Metal Acrylic Stool in the Modern Luxe Sale // Albany Beige Linen Modern Lounge Chair in the Fabulous Tufted Furniture Sale // Silver Aluminum Eiffel Tower in the Modern Luxe Sale
And the best part? All of these finds are from HauteLook – one of my favorite high-end deal websites.  HauteLook is a place where you'll discover thousands of the top fashion and lifestyle brands at amazing savings.  Each day at 8 AM Pacific, you can shop new sale events featuring the best names in women's and men's fashion and accessories, beauty, kids' apparel and toys, and home décor at up to 75% off.  HauteLook also offers free shipping on orders over $100 and easy online and in-store returns.  (And by the way, in-store returns are at Nordstrom Rack … hello, awesome!)
By the way, vintage Cartier is on sale right this very second …
This post is sponsored by HauteLook; all opinions are my own. Thank you so much for supporting the sponsors that make Glitter, Inc. possible!