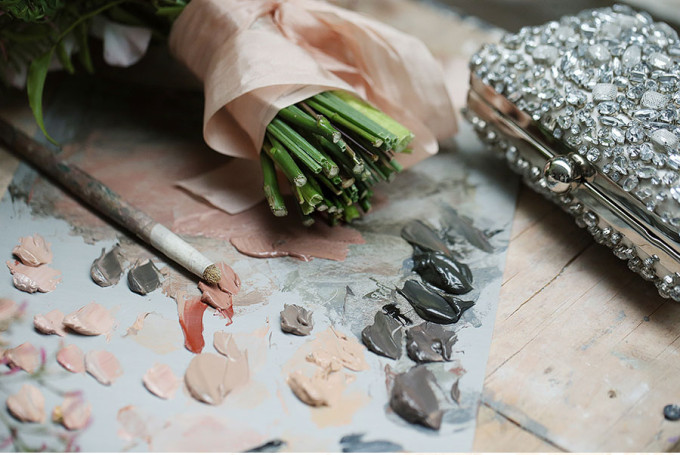 Happy weekend, loves!  Today I'm skipping school (a.k.a., work), and I'm headed out with my friend Jenn (who also happens to be an incredible interior designer.)  We're sizing up my apartment and hitting the stores (namely HomeGoods and Target!) to give my apartment a much-needed facelift for Spring.  Can't wait to share the results (and DIY's) with you all!  The rest of the weekend hubby is working at the hospital, so I'll be on my own to blog, bake, and prep for Spring.  Sunday we have friends in from Israel, so we're planning a fun dinner and plenty of catch up.  Any big weekend plans?
And with that, a few little love notes …
Dear on-the-hunt for the perfect wedding dress, this inspired shoot (image above) photographed by Alison Conklin for 100 Layer Cake will talk you right into one of BHLDN's stunning dresses.

Dear lack of a reason to throw a party this weekend, you're killing any shot I have at convincing myself I "need" to bake this Six-Layer Chocolate Cake with Toasted Marshmallow Filling & Malted Chocolate Frosting.
Dear wanderlust, this week I'm dreaming of Thailand.
Dear beauty lovers, Lorde is releasing a line of cosmetics with MAC and chances are, any shade of dark, vampy purple lipstick (a.k.a., nineties goth chic) is going to fly off the shelves.  Are you as excited about the collab as I am?
Dear Vince, I'm not sure you could have gotten the nude heeled sandal any more right.
Dear Honestly WTF, this DIY jeweled paracord bracelet is honestly awesome.
Dear fellow bump-wearers, did you catch my 15 Pregnancy Essentials for the Busy/Working mom-to-be?
Dear music junkies, in case you missed last weekend's episode of The Walking Dead (orrrr you hide in the other room when your significant other watches the series … oh yeah, I'm that chicken), you may have missed the epic "Blackbird Song" by none other than American Idol alumn, Lee Dewyze.  No joke, this song is great and haunting in all of the right ways (but not the way that would make you hide in the other room of course.)  Shout-out to hubby for running out of the bedroom to tell me about the awesome song.
Dear childhood dreams, it's never too late to live (a.k.a., staycation) at The Plaza Hotel, like Eloise.