I have to say, I was pleasantly surprised with how much I loved the fashion on this year's 2014 Academy Awards red carpet.  I've always been a huge fan of the red carpet looks, interviews, and close-ups, and this year did not disappoint.  But my standout favorites struck me right away …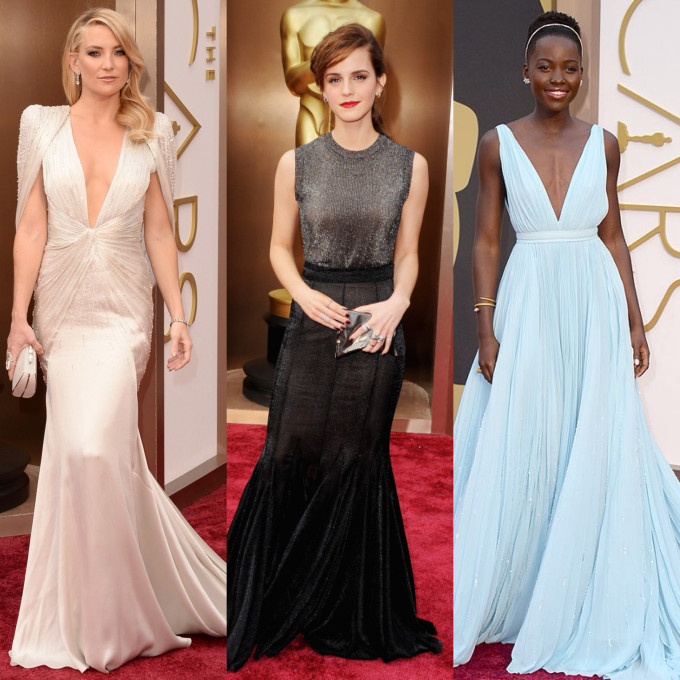 Kate Hudson in Atelier Versace: When Kate walked down the red carpet her look was truly the definition of a show-stopper.  That plunging neckline (that only Kate pulls off quite that well), the stunning shimmering satin fabric, the delicate caped shoulders – gorgeous.
Emma Watson in Vera Wang:  Emma Watson, as she has done at nearly red carpet event in recent history, really took my breath away in a silvery black Vera Wang dress.  The look, cut, and color of the dress is modern and edgy and absolutely perfect for her age.  Hello, muscle tee!  Also, I would wear this dress in a heartbeat.  (By the way, negative points for her bizarre messy side ponytail).
Lupita Nyong'o in Prada:  Lupita has fully (and successfully) leaped into the world of Hollywood's red carpets.  Her pale blue Prada (known as "duck egg blue") is delicate and stunning; I love that she is bringing back the headband, and embracing the spiked ear cuff trend.  It's Cinderella-meets-punk and I love love love it.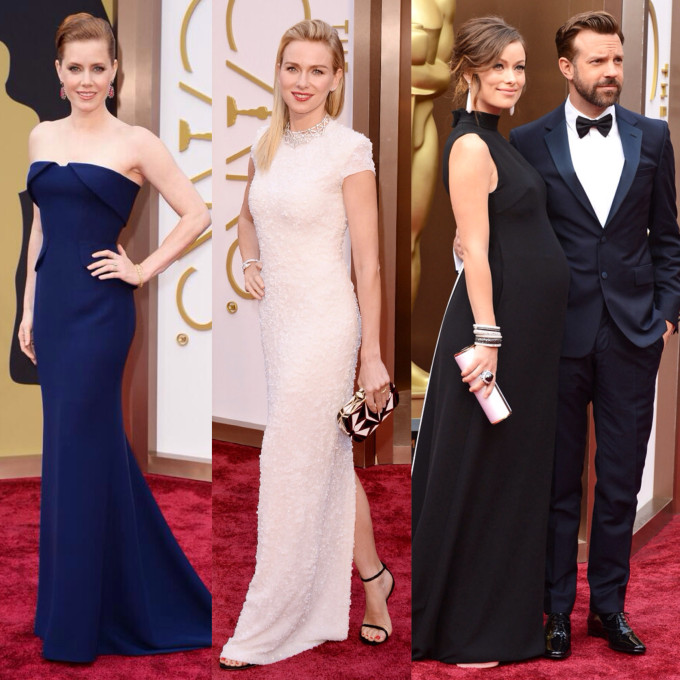 And my runners up …
Amy Adams in Gucci:  The look was understated and lovely, and the more I took in the deep blue Gucci dress, simple sleek updo, and red drop earrings, the more I loved her ensemble, as a whole.
Naomi Watts in Calvin Klein Collection:  The white beading over a soft white dress, elegant short sleeves, and that stunning Bulgari collar necklace was so Naomi, and so perfect.
Olivia Wilde in Valentino with Jason Sudeikis in Prada:  Is Olivia not the most fashion-forward pregnant woman ever?  Her high-necked black Valentino gown with bold white stripe down the back is beautiful, well-tailored, and bold.
Honorable mention goes to …
Charlize Theron in Christian Dior Haute Couture:  I also really loved the way Charlize Theron looked, but I wasn't completely taken with her dress (though admittedly, it was perfect for her.)
*These happen to be my favorites from the night, but I would love to hear who made your best dressed list!
Images via E Online