I really fell in love with all of the silver, gold, and ethereal metallics worn at this year's Grammy Awards.  (And you can check out all of my Grammy's fashion updates over on twitter.)  In no particular order, and totally subject to change if I see something even more jaw-dropping in the next few hours of the show (we are only about 50 minutes in after all!), my Grammy red carpet favorites …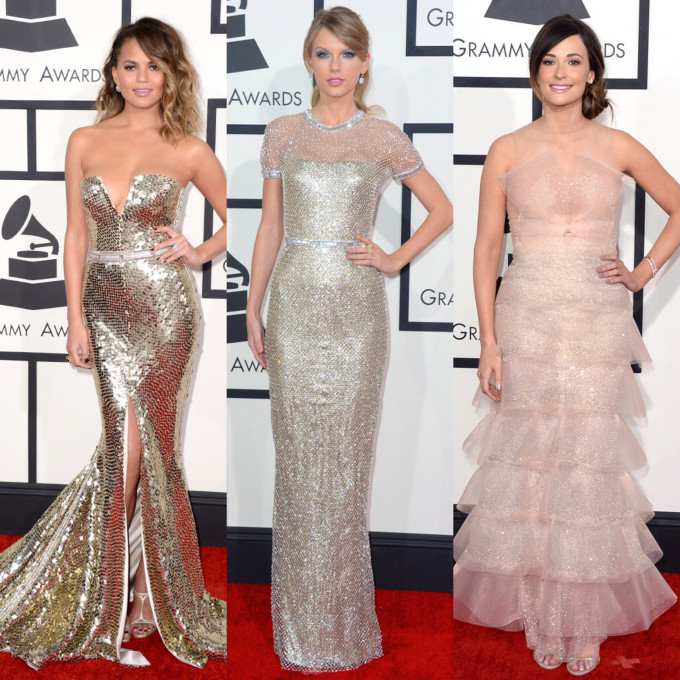 Chrissy Teigen in Johanna Johnson stunned.  The head-to-toe gold sparkle, the deep sweetheart neckline, the satin contrast lining, the daring slit revealing one great pair of shoes, gorgeous – and so Grammys-appropriate.
Taylor Swift in Gucci Premiere looked like perfection.  I know she tends to stick to metallics, but it just works for her.  And that ponytail: adorable.
Kacey Musgraves in Armani Privé wowed the heck out of me.  The pictures don't really do her soft shimmery pink dress justice.  And the sheer neckline?  So so pretty.
And though it came after the red carpet, can we talk about Beyoncé's white floral dress?
Be sure to catch my Golden Globes Best Dressed from a few weeks ago!
Images via E Online