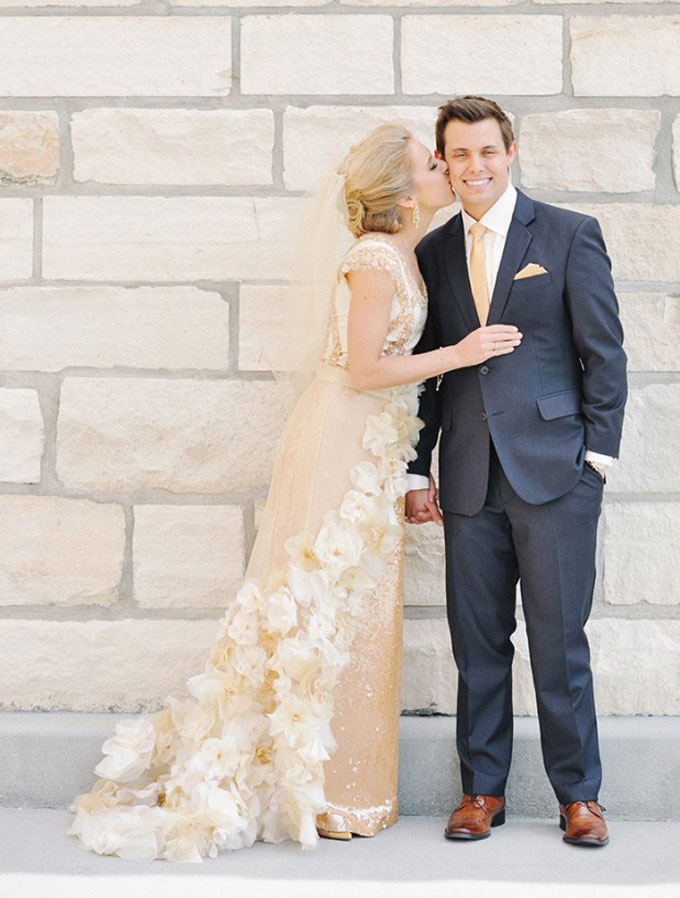 I love a unique wedding dress, and this short-sleeved blush gold dress, with a skirt covered in sequins with a floral tulle train is every inch unique and gorgeous.  And the really extra special thing about this dress?  The bride made it!
From the designer/bride: "Designing wedding dresses and formal wear is my passion and I was finally able to execute the dress of my dreams last fall. Ever since I can remember I had been sketching and accumulating ideas for my wedding, I had even been collecting fabric for my gown during the past couple years. The sequin part of my gown was actually a dress from J.Crew Collection that I bought in 2010 knowing that it needed to be part of my wedding gown because it was so incredibly gorgeous. I took the semester off of school to design and make my wedding gown (and all the wedding decorations). I started on the bottom half of my gown first because that design was pretty solidified in my head. After countless hours of hand-sewing organza and chiffon flowers with hundreds of beads the skirt part was complete and I was in love! The top proved to be more difficult. I could not pick one idea to stick with. There were so many elements I wanted to incorporate and when I finally designed the final bodice I knew it was the perfect match. I sewed on every bead and rhinestone while catching up on Netflix and missing my fiancé who was interning in another state at the time. After more than 250 hours of labor and over 3,000 beads the dress was complete and it was exactly what I wanted!"
Check out more pictures of this fabulous wedding over on Grey Likes Weddings!
Image via Grey Likes Weddings // Photography: Rebekah Westover // Event Design and Planning: Bree Wilkins {the Bride} // Custom Gown and Veil: aBree Original