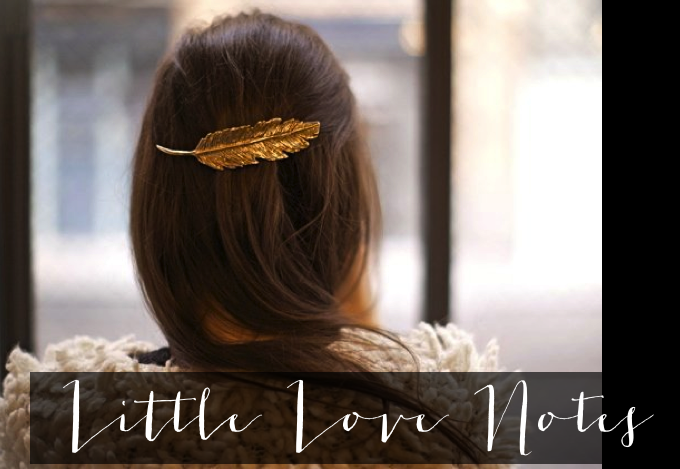 Dear weekend, I could kiss you.  This was one looong week.  I've been putting in overtime at the law office to help out and my blog duties have sort of fallen short — even though I have maybe ten thousand projects in the line-up (yikes!)  Rumor has it, Monday is Veteran's Day, so here's to hoping I get an extra day in to focus on the blog (with necessary forced relaxation before that; see below) and of course, a Monday toast to our troops.  Any big weekend plans?  (And yes, I've been so crazed, I didn't even realize it was a long weekend until today.  That's when you know it's bad.)
Dear Fall hair, a feather might just be the perfect addition.  Loving this PLUIE gold feather hair clip and this Colette Malouf feather headband.
Dear weekend, I found you a to-do list we might actually want to accomplish.  The art of weekend rest:  let's do this.
Dear baking, you'll likely be put on hold this weekend in favor of these homemade ricotta gnocchi.  Sorry, cookies.
Dear font-lovers, a darling round-up of fancy fonts.
Dear Sarah, your house is bonkers amazing.  That is all.
Dear shoe fanatics (who sometimes loathe heels), have you met the Madewell Mira heel?
Dear genius inventions, I can put glitter on my donuts … and eat them?

Dear napping tent, see reference to genius inventions, above.  Also, could you be any prettier?
Get the origins of these sweet little love notes, here.
Original Image via Fancy