I think it's safe to say that another installment of a "Confessions of Shopaholic" post is well-past due.  Because my laundry list of "wants" is huge.  Maybe if I put it out there into the world, I'll stop pining for all of the pretty new Fall styles.  Maybe.  (Check out the origins of this shopping-addiction-purge-series, here.)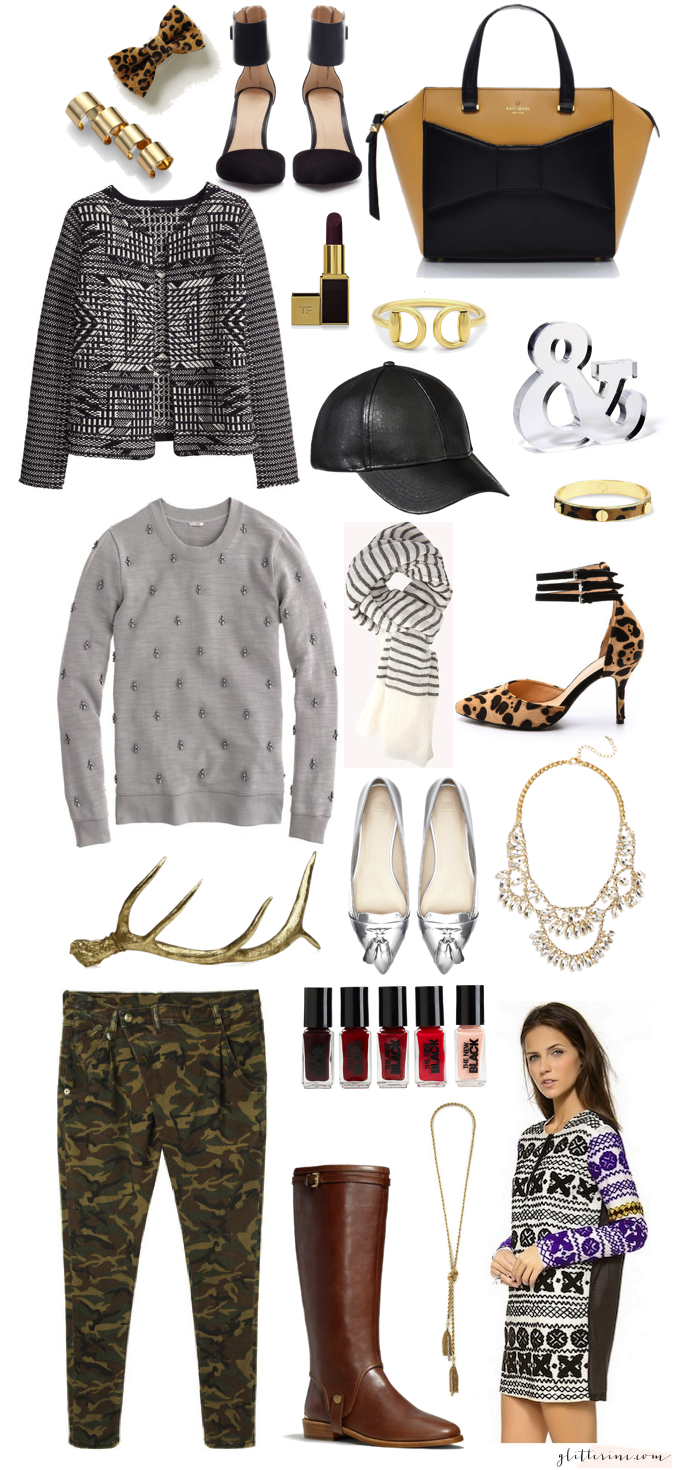 Get the Goods:
Anthropologie Spotted Leopard Bow Clip, $18 – I think this one needs no explanation. Because it's awesooome.
Maison Martin Margiela Knuckle Duster Ring Set in Goldtone, $440 – The coolest knuckle rings, ever.  (And the less pricey, but still beautiful, Luv AJ version, $110. Post on that obsession coming very soon.)
Zara High Heel Pointed Heel Shoes, $49.90 – Classic. Perfect. Want them.
kate spade new york 2 Park Avenue Beau Bag, $495 – Admittedly, beyond my splurge range, but such a gorgeous bag!
H&M Cotton Cardigan, $34.95 – Hello, goes-with-everything bargain!
TOM FORD Lip Color Bruised Plum, $49 – Vampy lips, be mine.
To add to my Fall arm party: C. Wonder Hinged Bit Cuff, $38  + C. Wonder Screw Stud Bangle in Leopard, $48
Xhilaration Faux Leather Hat, $10 – Although I haven't yet figured out a place to wear a leather baseball cap, for $10, better to buy and figure out the important stuff later!
C. Wonder Lucite Ampersand, $68 – Totally obsessed with ALL of the lucite letters at C. Wonder.
J.Crew Painted Jewel Sweatshirt, $98 – Because sweatshirts just call to me.
FOREVER 21 Nautical Scarf, $10.80 – Never met a stripe I didn't like.
Marais USA Fille Suede d'Orsay Heels, $170 – Another splurge, but oh how I dream in d'Orsay heels.
Faux Gold Deer Antler, $44.95 – I can picture these lovelies in about ten different places in our house.
Zara Pointed Moccasin With Tassel, $49.90 – Zara's shoe game is on point this season. Pun intended. #dork
BaubleBar Crystal Oksana Bib, $38 – A girl can never have too much sparkle; especially sparkle this delicate and lovely.
R13 X-Over Jean, $425 – I giggle nervously every time I click back on these pants and see that price tag; but I've never met a drop-crotch I didn't love, and this one is extra awesome. Le sigh.
THE NEW BLACK Rover Ombré Nail Polish 5-Piece Set, $22 – I can't stop ombré-ing (is that a verb?) my nail polish.
Coach Leona Boot, $498 – Cough, cough … that's a splurge.  But it's two boots in one (the boots transform from riding boot to ankle boot with a few snaps), which kind of makes it half price.  Right?
BaubleBar Iced Gold Lariat Necklace, $34 – This is just so pretty.
Antik Batik Ardi Embellished Dress, $425 – The cut, the pattern, the cute-ness; I really really want it.