This weekend we went outlet shopping, and I know weekend outlet shopping is basically shopping suicide, but the weekends are really the only time we have. The only reward: those hot pretzels and seriously ridiculous bargains; a.k.a., two very good reasons to go. Let me also mention that after we went outlet shopping, we went to IKEA. We're masochists, I think.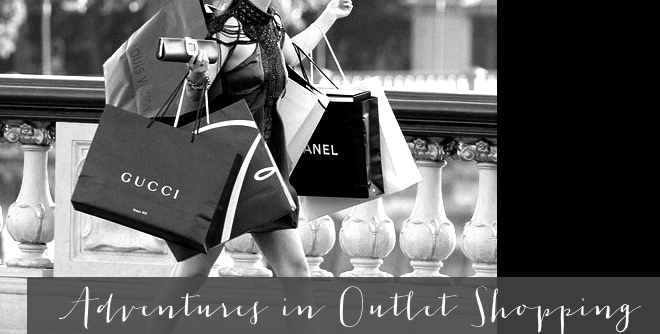 Here's what's weird: I love to shop.  What I mean to say is, I love love love to shop.  It doesn't matter where we're going, what we need to buy, what the reason is, what the weather is like or how I'm feeling (fever, cold, twisted ankle, none of it's going to slow me down.)  But outlet shopping … arghh.  It's crowded and chaotic.  But so worth it.  So how do you balance the two?  We really only go to the outlets maybe once or twice a year.  They're maybe a 45-minute drive for us, and they host some seriously fabulous outlets: Neiman Marcus, J.Crew, Bloomingdales, Saks, Tory Burch, Coach, Burberry … amazing, I tell you.  But I get to the outlets and I'm suddenly overwhelmed.  There's too much to choose from, too much to try on, lines in every women's restroom, madness I tell you.  (By the way, we did manage to outfit hubby for many months to come working in the hospital, and I may or may not have snagged a pair of Tory Burch sandals and a pair of Charles Philip leopard loafers, that I've had my eye on for months … both at about 70% off.)
And then there's IKEA.  It's a crazy awesome magical place, but it's the size of four Super Walmarts put together with people wandering in every direction, big yellow bags that magically fill up too quickly, and furniture and shelving and buckets and baskets and containers and nightstands and bookcases that all start to look exactly the same after twenty-or-so minutes.  I've only been to IKEA twice.  This time, my second time ever, I went in with a plan; I had visuals (via Pinterest, of course), and all of these great IKEA Hacks (if you haven't yet heard, Ikea Hackers is a site dedicated to modifications on and re-purposing of IKEA products, all of which turn out amazing on the site, and you think, "geez, I could do that" … but really, you can't … or you can, but with a lot more spray paint, super glue, and tears than you had intended.)  What I left with was a lot of shelves, pretty glass bottles to serve water in (for what, I'm not sure?), and a few striped place-mats.  Survey says: I clearly need someone with "vision" to get me through IKEA.
There were actually moments during our shopping mission when I felt like climbing into the cart and pouting.  My poor parents.  Adult me feels sorry they had to deal with my tantrums, even if I was only three.  Some things never change.  Instead, my husband had to deal, so we took many Starbucks Iced Passion Tea pit-stops.
Do you outlet shop?  Do you have some kind of outlet/IKEA shopping strategy?
Images via Gossip Girl // Style by Emily Henderson //