Only recently have I delved into the world of lipstick … and I am never coming back.  I actually think I flipped sides just before my wedding.  A close family friend, and also a Chanel make-up artist, took me wedding make-up shopping a few weeks before the big day.  At the makeup counter, I immediately began eagerly flipping through bottles of sparkly gloss.  She laughed and steered me towards the lipstick display.  The black plastic boxes looked so uninspired and I immediately thought of my grandmother with her peach-hued lipsticks that she and she only could pull off.
But with a bit of coaching and all of the lush shades, I stuck my first toe into the ocean of lipsticks that is now swallowing my bank account.  I.can't.stop.buying.lipstick.  Lipstick is velvety smooth, lasts far longer than gloss, creates that perfect pout, and looks far more high fashion than even the glossiest of gloss.  I'm still not ready to go lipstick day-to-day, but for a nighttime look or big event (ahem, weddings, anyone?), lipstick is the way to go.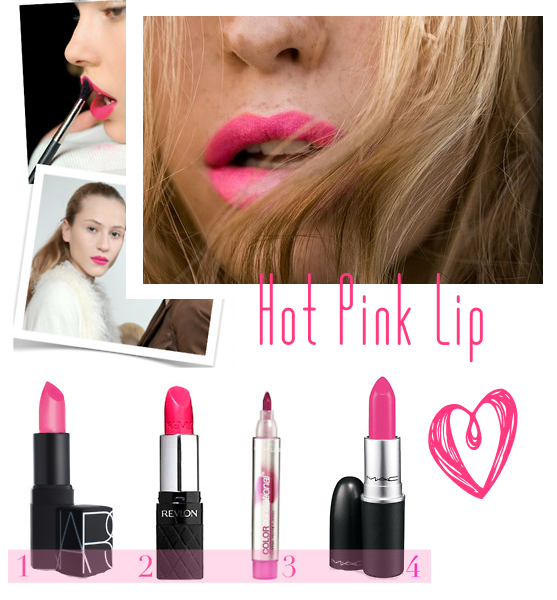 Which brings me to pink lips.  Pink lips are youthful, bold, and a great pop of color against a perfect white dress.  Don't you think pink lips just scream L.O.V.E.?
1. NARS Lipstick in Schiap // 2. Revlon Colorburst Lipstick in Fuschia // 3. Maybelline Colorstay Lip Stain in Bitten Berry // 4. MAC Candy Yum Yum Lipstick
If pink's not your color, check out this post on Red Wine-Stained Lips.  Vampish and gorgeous.
Image Board Created by Glitter Weddings // Images Via: Pinterest // Glitter Guide Tumblr