One of my favorite things to do for my own wedding was to collect vintage pieces for the centerpieces.  We filled vintage cans with all different flowers, and I loved every minute shopping/scouring for the cans.**  Using vintage and re-purposed glass bottles is no exception to my the-hunt-is-half-the-fun rule.  Plus, arranging varying glass bottles as a centerpiece is a great conversation starter and they will photograph beautifully.  Whether you search for traditional clear or milk glass bottles, unique blue glass bottles, or varying shades of browns and greens, the centerpieces are sure to look classic and just the right amount of shabby chic.
To mark each table, a table number can easily be strung around one of the center bottles or jars or a table flag or number atop a stick can sit nestled within the flowers in one of the taller jars.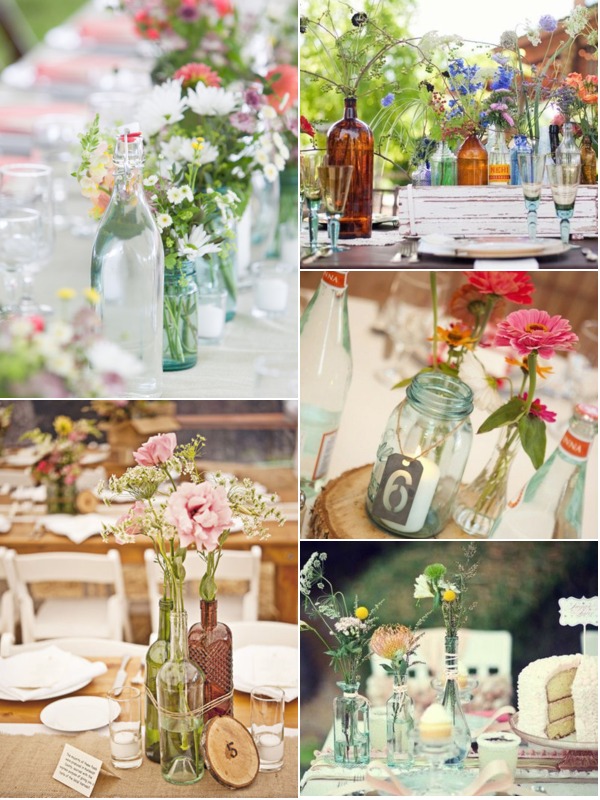 **It got to the point where I would buy two old cracker jack cans for $4.50, naturally, thinking that was some deal, get to a church yard sale and spot a handful of great cans at 25 cents a piece, and I would curse the heavens (okay, maybe not quite so dramatic … more like, buy a diet coke and wallow in my $3 overpayment pity).  Also, I still bought all of the new "old cans" and eventually coveted the $4.50 set because they were the "expensive cans."  Cue cuckoo bird.
Image Board Created by: Glitter Weddings // Images: Merriment Events // Style Me Pretty // Hostess With the Mostess // The Knotty Bride // Style Me Pretty