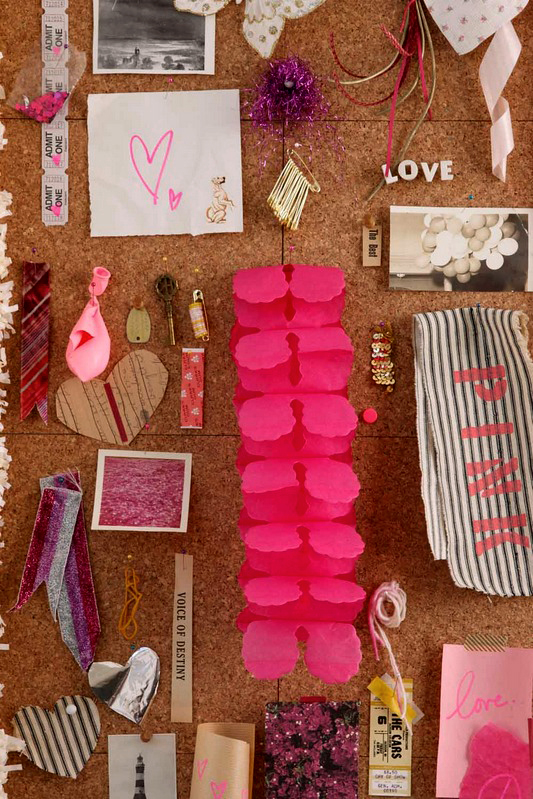 Over on Glitter & Pearls I'm featuring a few great shots from the site of MAV (Maria Alexandra Vettese), who several-years-back created a now very well-known and well-styled campaign for Victoria's Secret PINK (more on that here.)  MAV now keeps these stunning little vignettes and inspiration boards neatly photographed on her site, so that we all may swoon just a little bit.
Which brings me to today's rambling – I'm in love with the "old-fashioned" inspiration board, but I know the internet has sort of swallowed our inspiration up whole (and also helped to foster it in a big way).  Though many of us have become Pinterest addicts, there's something genuine and ever-inspiring about a back-to-basics cork board.
For our wedding, I had inspiration bursting at the seams – I pulled clippings from magazines, newspapers, advertisements, I had fabric swatches and color samples, I photographed favors and flowers, I had invitation samples galore, and I had also started an online pin board and a folder saved onto my desktop with just about every wedding image on the internet that I loved.
So, inquiring minds want to know (me, me, me), are you a child of the future – i.e., online pin boards are your calling, or is the cork and push-pin more your style?  Are you managing some balance of the two for your own wedding?
Images via Maria Alexandra Vettese