I know this topic seems … well .. out there.  But as you all know (because let's face it, you're researching every last detail for your wedding right now), the details matter (especially if you're Type-A like me, and live for the effort.)  We spend all of this time, money, and energy on our wedding invitations (the paper, the print, the design, the calligraphy), but how much thought is put into the stamp?
Your local post office likely has a wedding- or love-themed stamp available in bulk, and you can design your own stamp with sites like Zazzle and Perfect Postage.  But what if you're looking for something just a bit more chic than doves and self-adhesives?
Drumroll: meet your new best friend/obsession – the vintage stamp.
With vintage stamps, you can hunt for a theme or color scheme or particular stamps from the destination wedding locale, for that added bit of personalized charm.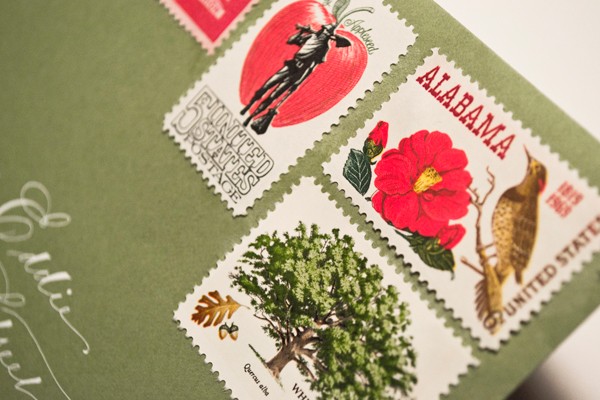 And there is this amazing company, The Paper Nickel Stamp Company; they'll put together any number of vintage stamps for you. Created & curated by the brilliant creative director, Holly Bedell, the shop's vintage stamp collection boasts a huge assortment of usable postage stamps dating from 1900 – 1980, all to adorn the corner of your envelope.
"I like to think of stamps as tiny little posters," says Holly. "Each is exceptional and individual and provides the ultimate finale to your mailing."
Brilliant, I tell you.
Images found on: The Paper Nickel // Sparkle & Hay // Snippet & Ink