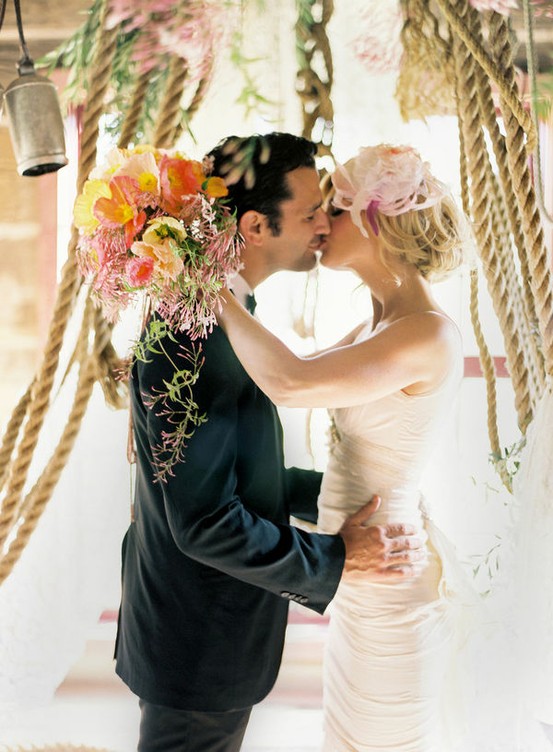 When you live near a beach, you never go.  My whole life, I've lived maybe ten minutes from the ocean, and whenever I travel to places with a beach, I think, "Wow, this is just stunning."  Not sure where the disconnect is.  I mean, if I lived near Disney or a Louis Vuitton factory, I would surely visit every day (or until I ran out of money).  (And the beach is FREE … again, not sure what my excuse is.)
It's been cold in Miami for about two days, which is the equivalent of a blizzard (don't laugh – Hurricanes are sun showers to us.)  So now I'm back to missing the ocean … the ocean I never step foot into.  The ocean, that since we moved into our new place, is a bike ride away (if I could ride a bike.)  All of this is mostly irrelevant, except to push nautical weddings, because I love them.  And today's nautical theme: fisherman's rope.  It's my Miami nod to the not-so-distant-at-all ocean.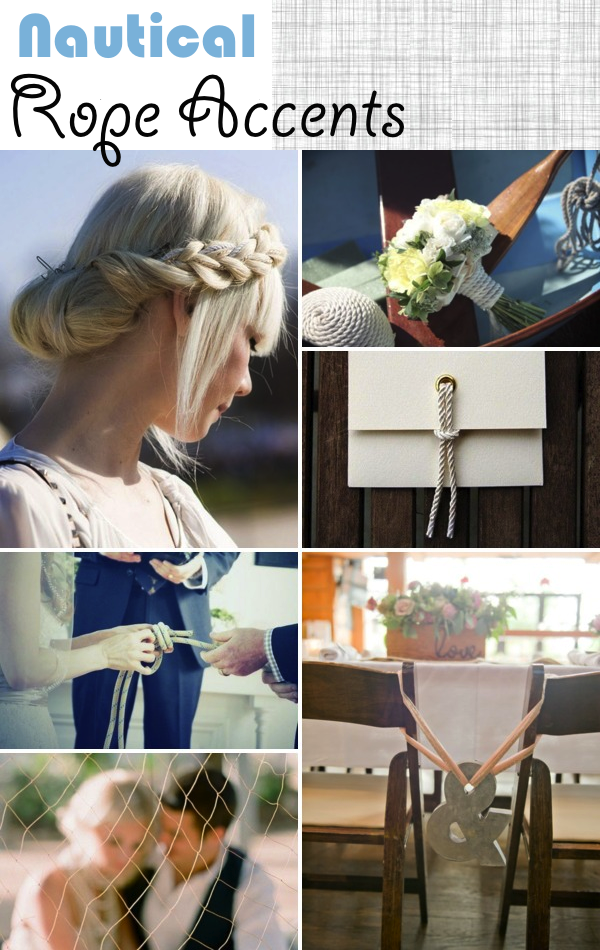 Fun with ropes:
Couple Tying The Rope:  These lovebirds actually tied a knot during their wedding vows.  (I'm giddy with all of the puns.)  During the ceremony, the couple tied a fisherman's knot, which is the strongest knot.  In fact, the rope will break before the knot comes undone and the knot only gets tighter with pressure.  Something about the rope's significance can be printed and handed out to guests, and post-wedding, the fisherman's knot can be framed in a shadow bow with a picture from the ceremony.
DIY Braided Hair + Rope Updo:  Get designer, Erin Featherston's classic braided crown look, by weaving a thin piece of rope into any of these hairstyles, here, here, and here.  (Remember to fasten the top of the rope beneath the beginning of the braid with either a bobby pin or small plastic hair tie.)
And in case the nautical rope decor isn't enough to satiate your at-sea desire, what about one of these bold rope statement necklaces?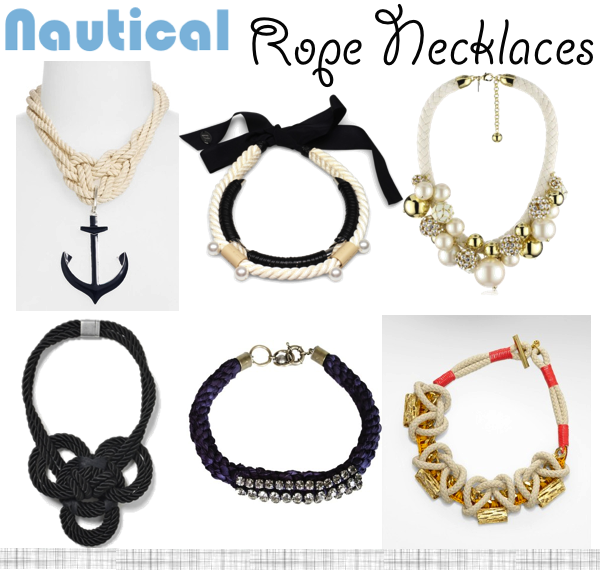 Necklaces: Spring Street Design Group Anchor Necklace at Nordstrom // 3.1 Phillip Lim Leather and Rope Necklace (Similar) // Kate Spade New York Mariner Rope Necklace // COS Knotted Rope Necklace // Lanvin Diamond Rope Necklace (SOLD OUT – Similar) // Tory Burch Cactus Wreath Necklace
First Image Via stylemepretty.com // Hair: Designer Erin Fetherston's hairstyle, on Vanessa Jackman's Blog // Rope Ball & Bouquet Via dianaelizabethblog.com // Couple typing the rope via rosealamode.com // Rope Invitation found here // Couple Behind the Rope via kissthegroom.com // Rope/Net & Ampersand via stylemepretty.com
Visit Glitter & Pearls – TYPE-A MUSINGS ON KITSCH, GLAMOUR, & COUTURE