I'm so pleased to introduce When & Where Invitations to you all!  When & Where Invitations offers unique, three-dimensional invitations to make your event stand out!
As it is probably apparent by now, I like to do everything.  I see a project, a tablescape, a design, and I think, "Hey, I can totally do that."  And for much of my own wedding, I did just that, with the help of family, friends, and caffeine (lots of caffeine).  But there were a few things I just inherently knew better than to tackle.  One of the biggies – the invitation.  Invitations are complicated; printing is even more complicated, but something is lost in the professional invitation – that hand-spun, unique feel.  Glitter Weddings' newest sponsor – When & Where Invitations – they've got you covered, offering handmade invitations and party favors, all in one.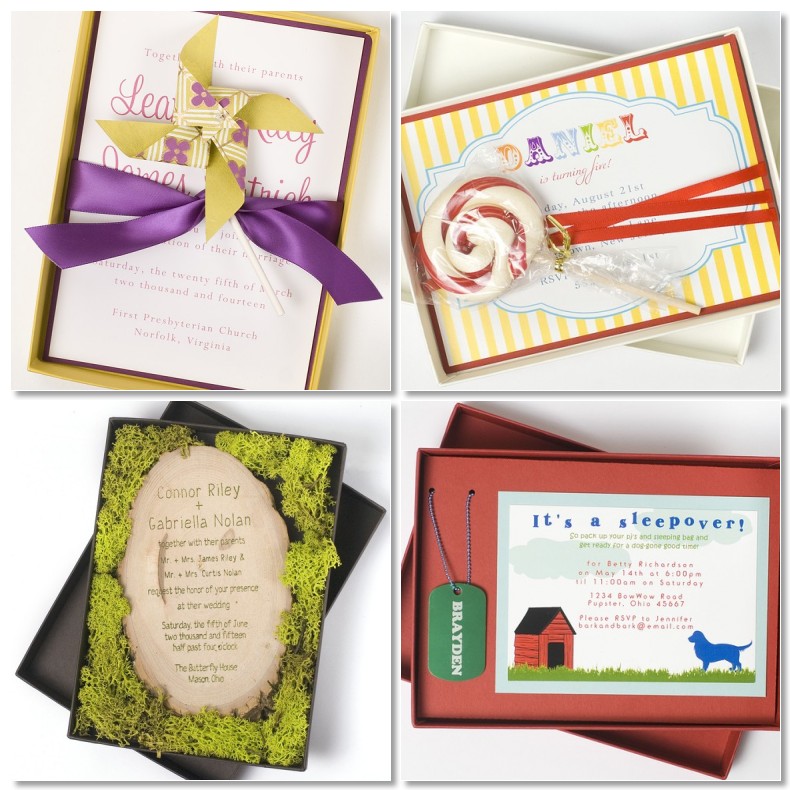 And here to share a bit about When & Where Invitations is Mandy:
When and Where Invitations started out as just another paper invitation company. We made every day flat invitations just like the next guy. Flat invitations can be fun and definitely gets your point across, but when my daughter's first birthday came along, I wanted something different.  Something unique.
After careful thought, an idea came to mind. I would put the invitation and the party favor together! I always forgot to pass out the party favors when the events came to an end, leaving me with more than my fair share of candles, baking supplies and Hershey kisses.
For a woodland theme, I thought I would make a mushroom shaped magnet and put it in a box with the flat paper invitation. The invitations were a hit! People wanted to come to a party that had such unique invitations, because, let's face it, if the invitations were that extraordinary, how would the party be? The invites also made people remember her birthday party date.
Thus, a transformation to When and Where Invitations took place. Invitations that come packaged in a box with a little something extra inside. Each invitation has been carefully designed and executed by a member of my team or myself.  They can include anything from a handmade pinwheel to real maple leaves and wooden tree rounds to delicious lollipops.
Creating unique, beautiful invitations is our second most important goal. It only comes next to having a satisfied client.