In the days and months leading to a wedding, there are moments when a bride thinks, "I should have eloped." I've had countless conversations with brides-to-be who voiced this same frustration.  Wedding planning can be exhausting, all-consuming (but wholly worth it, in my wedding-infatuated opinion), and seemingly never-ending.  And no doubt, there were times I myself thought, I could quickly marry the man of my dreams and simply throw one heck of a party for a lot less money.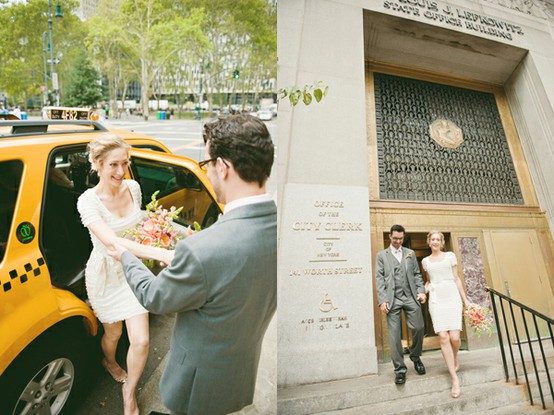 To each his own, I say.  And if I had ten more tries, there would certainly be a few elopements thrown in (to the same guy, of course!)
But for those brides who care to stick to their stress (ugly word) – free lives (haha, who's kidding who?), fashion should never be compromised.
Image Via Ruffled Blog // Dresses: 1. Opening Ceremony Dropped Waist Lace Dress // 2. Topshop Jewel Neckline Dress // 3. Antik Batik Bowie Dress // 4. Stella McCartney Two-Tone Jersey Dress // 5. Modcloth Blissful Beauty Dress // 6. Modcloth All for the Love of Dress // 7. Max & Cleo /via Modcloth Sparkle and Span Dress // 8. French Connection pretty Penelope Dress // 9. Dorothy Perkins Cream Lace Prom Dress