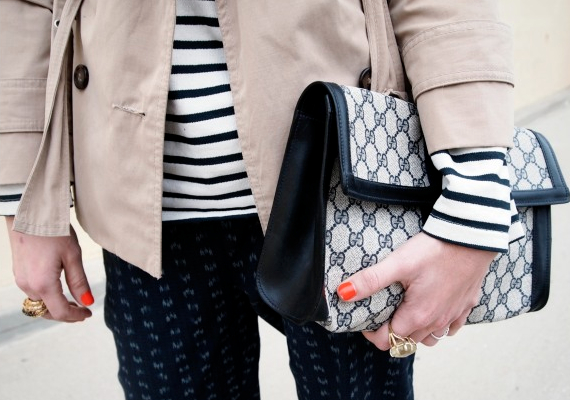 Always a fan of vintage couture, I am especially fond of the vintage designer clutches popping up on bloggers' fashion rotations.
Thrift and vintage store hunting is a blast, but I have a soft spot for Ebay, and so I hunted like a mad woman for every brand of vintage clutch and found some real treasures.
On your vintage Ebay hunt, think outside the box:
Use different search terms: "clutch" works, but don't forget to try "pouch," "pochette" (for LV), "cosmetic case/bag" (or "makeup" or "toilette" or "toiletry")
Go search crazy.  Try other designers:  Gucci, Louis Vuitton, Goyard, Fendi, Burberry, Coach, Chloe, Bottega Veneta, Balenciaga, etc.
Choose the "Save Search" option and Ebay will e-mail you when new items with the specifications you are searching for pop up.
Don't be afraid to inquire about the item's authenticity … and ask again.
Bidding is addictive.  Set a bar for yourself, and don't go over your limit – you'll regret it later.
Check out a seller's reviews before you buy.  If the seller is at a 95% and above, go for it.  And if the seller frequently sells vintage items – bonus!
{images a la b. jones style; atlantic-pacific; and brooklyn blonde}