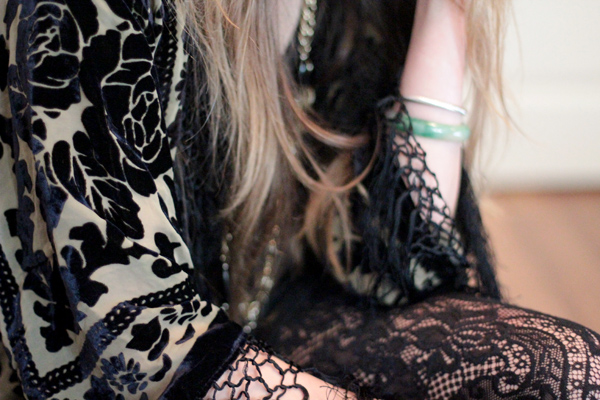 Nicole Richie wears the satin kimono all over town – and she looks endlessly effortless (the satin feather-printed kimonos seen everywhere are in fact from her own line, Winter Kate, and her version of the "bed jacket" – think velvet and lace – is also from the Winter Kate line).  Miley Cyrus rocked a floor-length version to the Never Say Never premiere and again out on the town.
Paired with jeans, kimonos look casual and stylish.  But part of me worries, are these satiny robes a tad on the costumey side?  Probably – but fashion is all about the drama.
I err on the side of fashion "safes", so I probably won't venture from the slight-flare-denim paired with a muted color kimono, but I can't help but think that a tight mini worn with a sexy colorful satin robe is just the ticket.
My take on the trendy kimono:  wearing pajamas to work and still looking chic?  Yes, please.