This post contains affiliate links, which means that if you click on one of the product links, I'll receive a small commission. Thank you so much for clicking through and helping to support this little blog business of mine! Read more about our site, privacy, and disclosure policies here.
With Summer on the horizon and the move to a house (a real grown-up house with a yard and everything), I find myself dreaming in bedroom sets, natural lighting, and summer tablescapes. Because guys, I'm going to get to throw real-life, backyard parties and soirées, and I am so stinkin' excited.
So let's talk summer tablescapes – you know the ones: bright, blooming tabletops set for a summer gathering. I love everything and anything when it comes to table scapes and party set-ups, from a casual picnic table topped with mason jars and jute placemets to a glammed up farm table draped in linens set with crystal and candlesticks to a low table set on the floor with pillows and floor cushions rather than chairs. Bring on the Summer. Bring on the parties.
Summer Tablescapes
These are a few summer tablescapes that I can't take my eyes off of (and are serving as major inspiration for my own upcoming backyard parties), full of fresh flowers, lush greenery, stunning table settings, gorgeous color schemes, and perfectly relaxed outdoor chic vibes.
When it comes to throwing your own summer parties, don't be afraid to bring in plenty of natural elements, loads of color, and a whole lot of light and fun.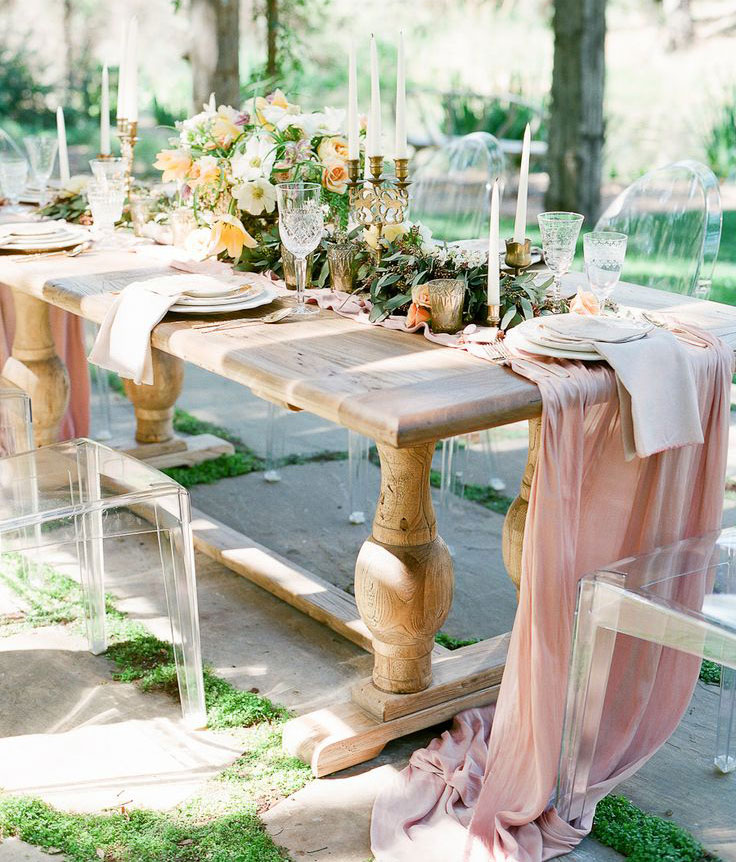 Rustic Romantic Outdoor Tablescape via Style Me Pretty
The glamorous blush pink gauze table runner really makes this tablescape, don't you think? 😍 I'm also loving all of the height and dimension those candles of various heights are adding.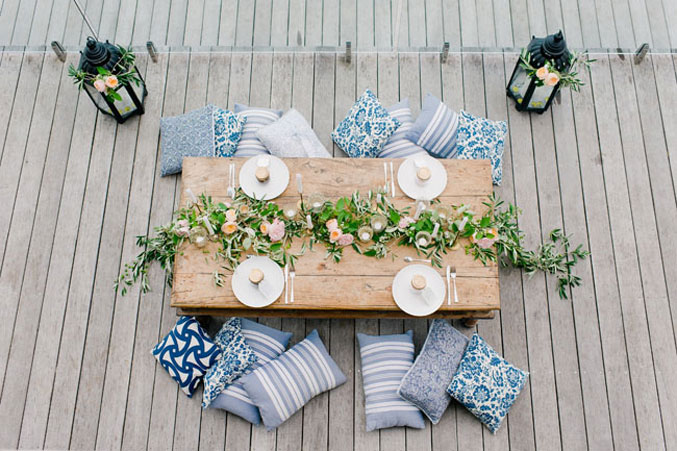 They had me at those classically summer-time blue and white pillows. Who needs chairs anyway!? I totally dig this casual vibe.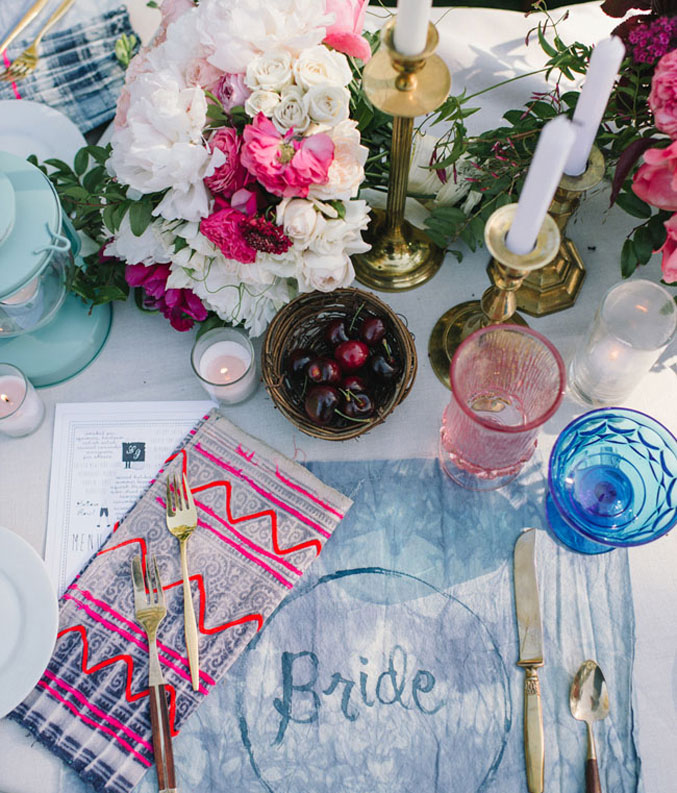 Tie dye and batik prints on napkins and tablecloths, be still, my heart. The vintage gold flatware and brass candlesticks really elevate the otherwise campy-y summertime vibes. Loving the combination.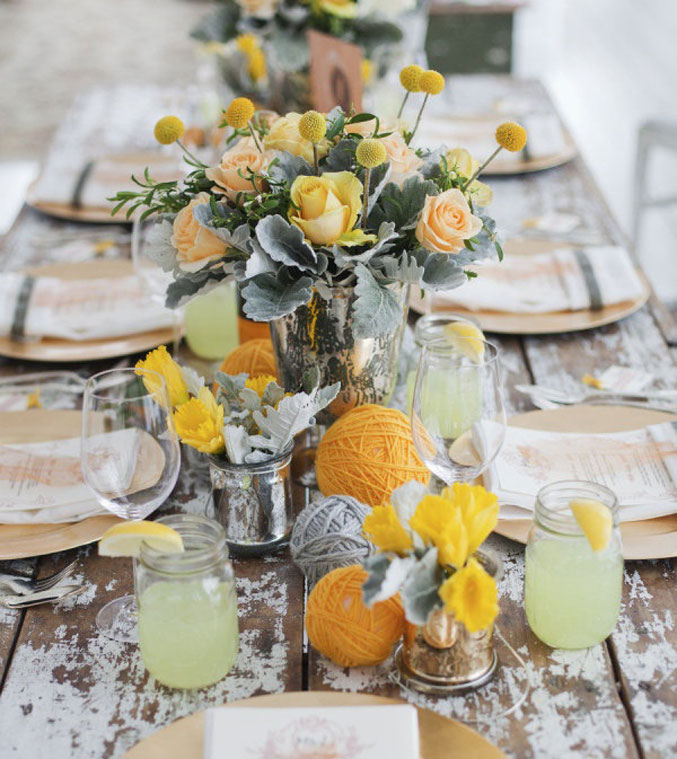 Rustic Lemon Yellow Tablescape via Style Me Pretty
Balls of yarn (in the marigold yellow, sage green, and grey color palette, of course) decorate this rustic summertime table, complete with mason jars of lemonade. I mean, how adorable is that?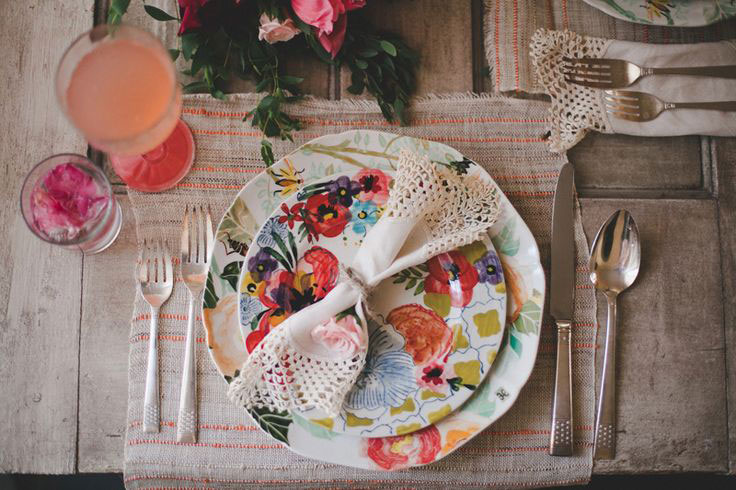 Frida Kahlo Inspired Dinner Party via Burnetts Boards
I recognized these colorful hand-painted dishes almost immediately as an older collection from Anthropologie. They have the best dishes, don't they?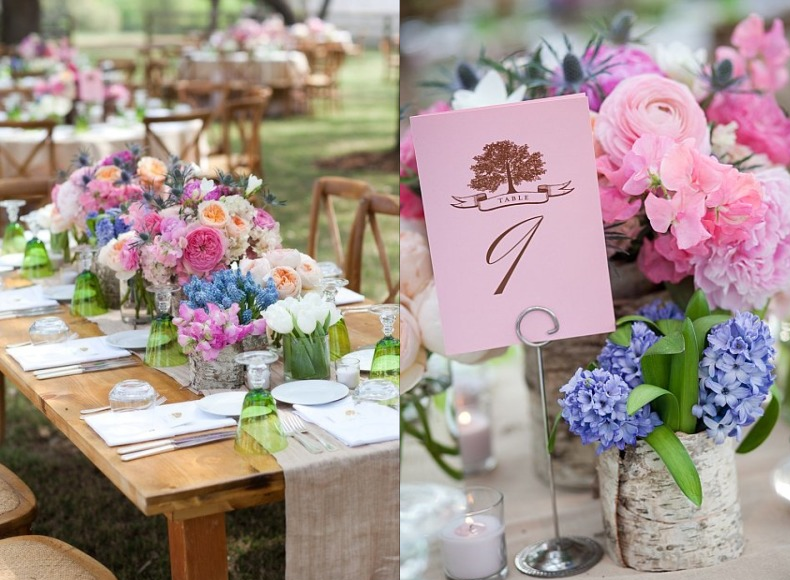 Goodness, the lush flowers really make this summer tablescape a standout. Also loving the birch-wrapped vases sprinkled in.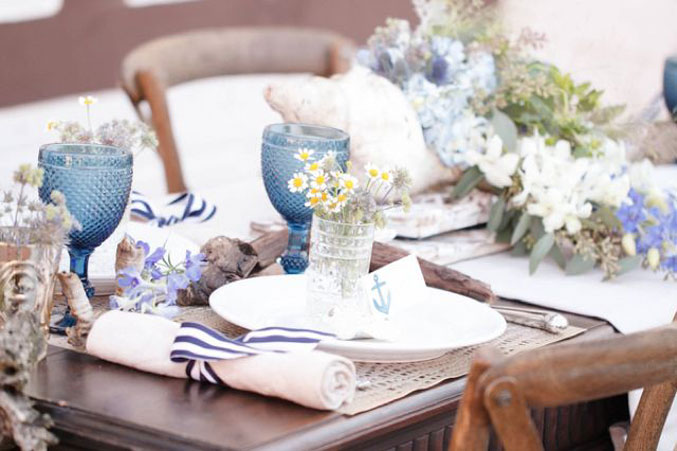 Blue and white is such a summer-perfect color palette. The blue glass goblets here really helps this otherwise simpler look to pop.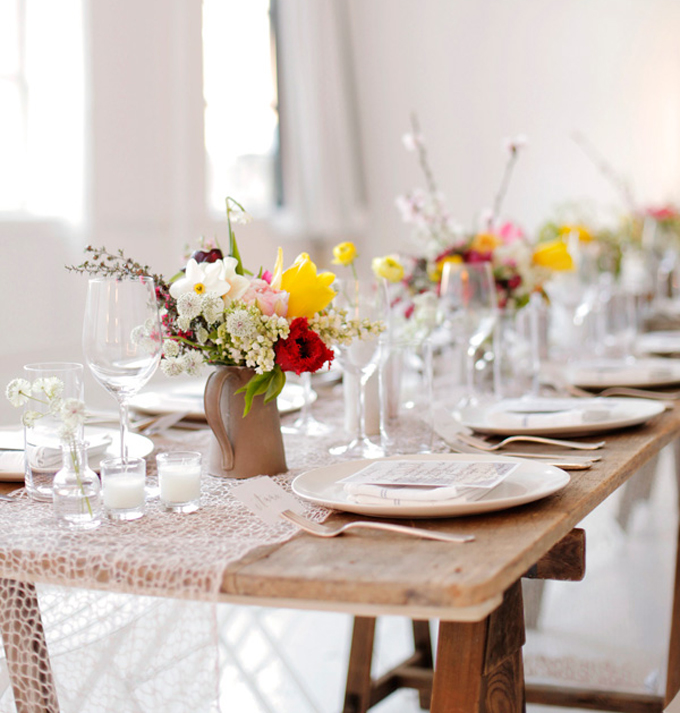 Loving the fish net as a table runner. Such a thoughtful touch to an otherwise simple, rustic table.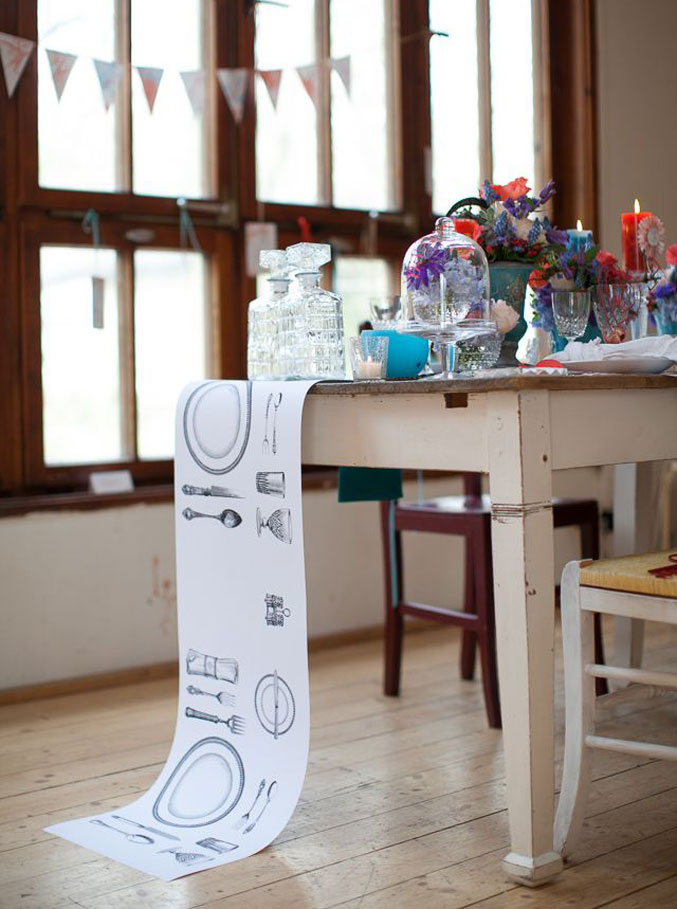 Colorful Bohemian Tablescape via Burnetts Boards
All of that clear glass and crystal, the vintage-inspired paper table runner, and those bright, colorful flowers – such a pretty tablescape.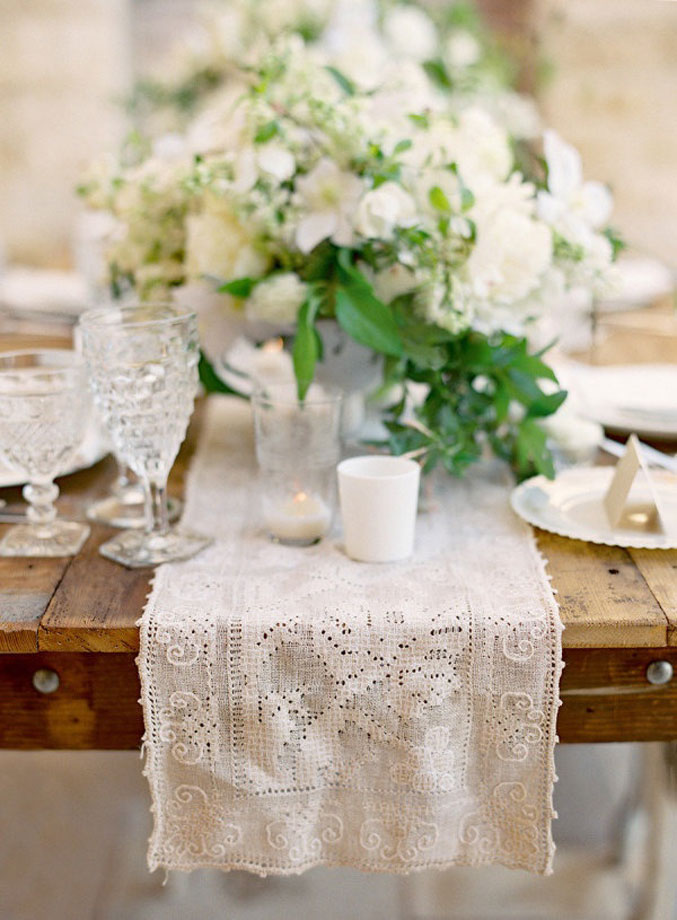 I need to go digging through my mom's linens because this crochet/lace/embroidered table runner is just stunning.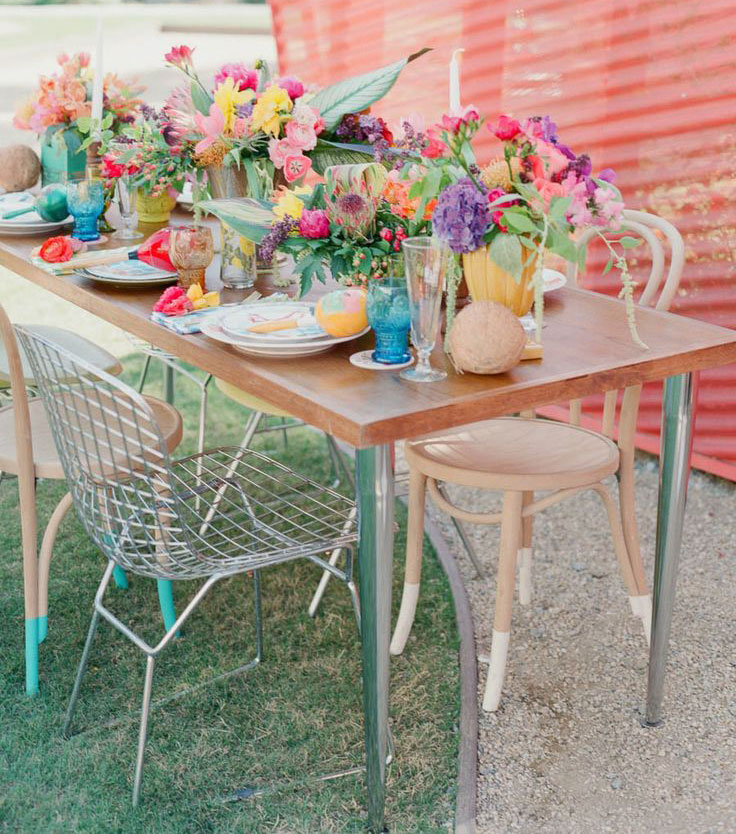 Colorful Tropical Outdoor Tablescape via Burnetts Boards
The mis-matched chairs, the wooden maracas, all of that color – this one is so much fun.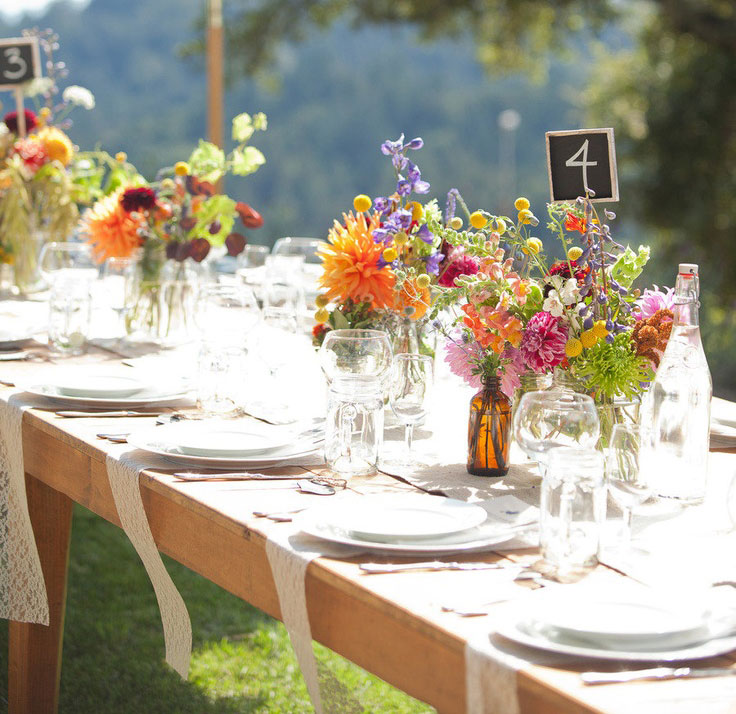 Vineyard Picnic Table Design via Style Me Pretty
I'll always love the look of wildflowers on a summer table. Pair those dreamy blooms with vintage apothecary bottles and vases, especially in a pop of brown amber glass, and a touch of lace, and you've got yourself a no-fuss bohemian party to remember.
By the way, to add that lace element, just buy a spool or two of wide lace ribbon, cut into even strips – about two feet long per strip, and place one beneath each dinner plate or charger.
Any favorite summer table looks? Will you be throwing any parties this Summer?
SHOP THE SUMMER TABLESCAPES | CLICK LEFT & RIGHT ARROWS TO EXPLORE
Love these summer tablescapes? Want to throw your own summer parties? Check out all of our parties here for a whole lot of inspiration; and if you put together your own summer soirée, be sure to tag me on social media (@glitterinclexi) so I can live vicariously through all of your gatherings and get-togethers!