I don't know how to just watch shows on Netflix, Hulu, and Amazon Prime. I binge shows on Netflix, Hulu, and Amazon Prime. Actually, we binge these streaming services (my husband and I, that is.) But when I realized hubby was about to start two weeks of night float today – i.e., he basically lives at the hospital for two weeks straight – I decided to do a bit of research on the hunt for the best shows on Netflix, Hulu, and Amazon Prime to watch in true binge-worthy fashion, for hours at a time. Before you panic at the sheer enormity of this list, know that I haven't seen all of the shows on this list (okay, maybe most), but when your husband is a resident, you're alone, a lot (you can read more about the life of a doctor's wife, here) and Netflix, Hulu, and Amazon Prime … they're your friends. And let's face it, even when he is home – after our hectic weeks: him at the hospital and me trying to run a business and chase down a toddler – mindless, pajama-clad, binge-watching is just what the doctor ordered. Ha, nerdy pun totally intended.
Since sharing is caring, I thought I'd publish the spoils of my addiction with a huge list of the best shows on Netflix, Hulu, and Amazon Prime to binge right now; some I've seen and loved and many others have come highly recommended.
UPDATED JULY 2017

Be sure to let me know in the comments if I've missed any favorites! I'm always looking for new shows to get hooked on.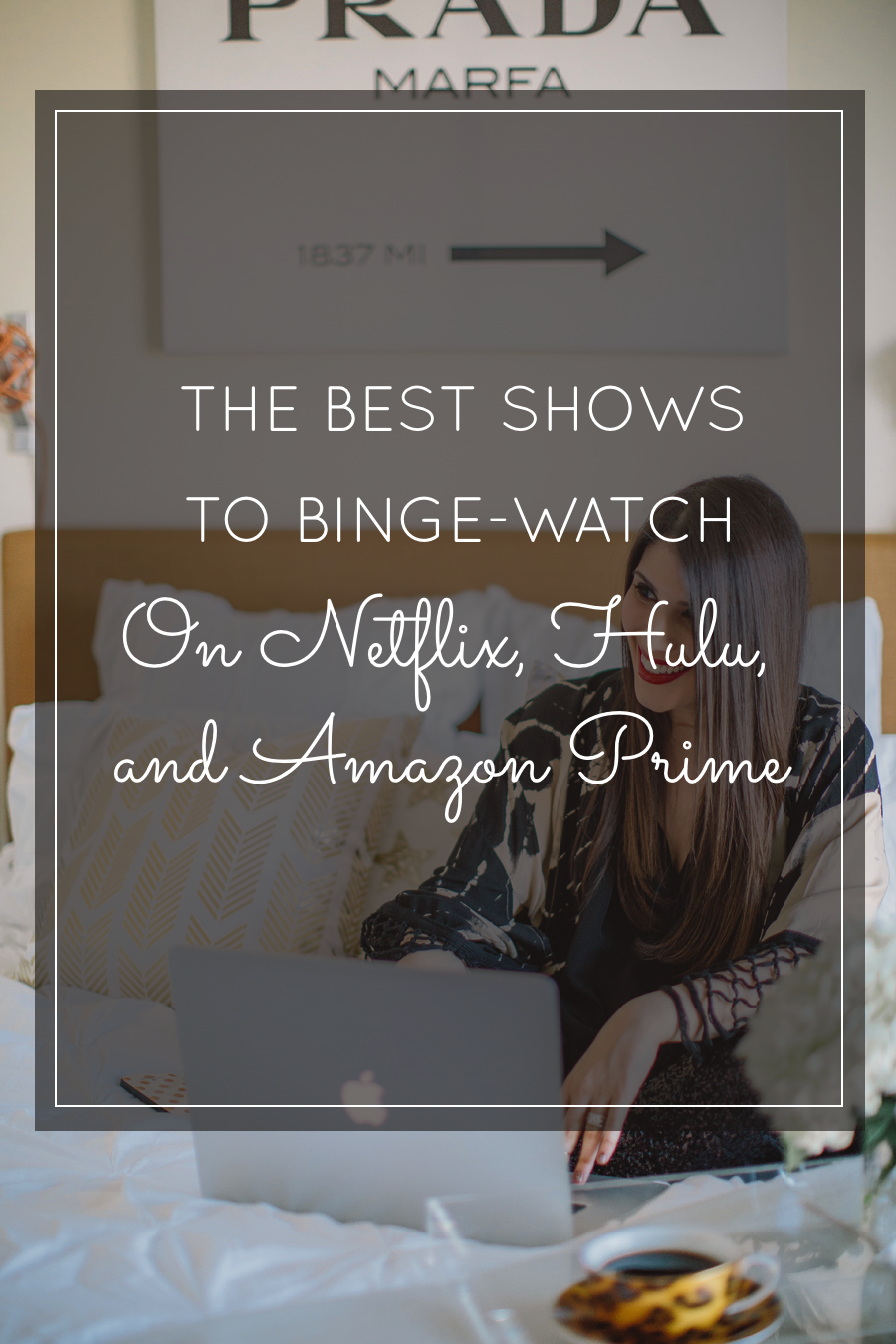 Gilmore Girls: I have and always will adore this show. I've watched the entire series at least four times now, and truly, it never gets old. The dialogue is beyond witty, the cultural references are fantastic, and you can't help but fall in love with each of the characters, even when you want to throw your frozen waffle at the computer screen.
Unbreakable Kimmy Schmidt: I love, love, love this show. Their's just something so innocent about Ellie Kemper's character, a girl rescued after 15 years in a cult, who reclaims her life by venturing to New York. Her wide-eyed enthusiasm is just the best.
Jane the Virgin: I don't know what it is about the show, but it's completely addicting. Jane is sweet, love-able, and sometimes naive, but the backdrop, done in a telenovela style, is dramatic and laugh-inducing, and very refreshing compared to so much of what's on tv these days. It's not at all surprising that Gina Rodriguez won a Golden Globe AND an Emmy for her role as Jane on the show.
Crazy Ex-Girlfriend: I laugh through every single episode of Crazy Ex-Girlfriend. Every single episode. As of now, I'm woefully behind, but I've vowed to catch up. Basically, a very quirky young woman abandons a powerhouse job at a law firm in New York City in an attempt to reconnect with (errr, stalk) her old boyfriend. There are also many musical numbers. The creator, writer and star of the show, Rachel Bloom, won a Golden Globe for it, so you know it's gotta be good.
Jessica Jones: This superhero-meets-detective show is edgy and raw and features a butt-kicking female superhero lead. Very cool. And very dark.
Don't Trust the B— in Apartment 23: Before Krysten Ritter was Jessica Jones, she was in the tragically underrated Don't Trust The B—. I'm not sure why this show was canceled but it was awesome and funny and inappropriate, and very much worth the binge watch.
The Office: It's hard to convert people into the cult-like following that is an "Office lover" until they've actually seen The Office … in it's entirety. And then they watch it again and again and again. I know this sounds crazy, but if you're looking for the best love story ever (as in, even better than The Notebook), watch The Office. I kid you not.
How I Met Your Mother: I'll admit I also watched this show for the love story, but not the mother's. I'm a forever fan of Lilly and Marshall. Well, them and Barney. Just watch it. You can thank me later.
Sons of Anarchy: I never in a million years would have thought that I would fall for a show like SOA, but I did. Go figure. The story is twisted and intense and sad, and the lead character is such a dreamboat it's hard to look away.
Parks and Recreation: Stop. Do not pass go, well, at least not until you've watched every last episode in this series. Do it for Leslie Knope. This is one of our favorites.
The Mindy Project: Mindy Kaling is the most charming, adorable, smart, funny, young comedic writer around right now, and you're majorly missing out if you've never gotten into The Mindy project.
Mixology: This show on Netflix is totally under-rated but brilliant. It's only one short season and well worth the watch. The next time you hit a Friday night with nothing to do, break out a bottle of wine, a big bag of popcorn, and binge away.
Sports Night: One of Aaron Sorkin's lesser known series, Sports Night, is quite possibly my favorite of all of his shows. The shortest run, and very little to do with sports (despite what it's name may imply), the rather funny and heartfelt show documents the fictional lives and relationships and behind-the-scenes of a sports news show. Hubby and I generally have an annual binge-a-thon of both this show and The Office. For whatever reason, both shows have just kind of stuck with us.
Gossip Girl: This show is the height of guilty pleasures. Gossip Girl follows the lives of privileged teenagers on the upper east side with money to blow and absolutely no scruples. You'll love to hate them and secretly want to be them (or at least raid their closets.) Seriously, do it for the fashion. And Chuck Bass.
Big Little Lies: The seven-episode miniseries, created and written by David E. Kelley, and based on the hugely popular novel by Liane Moriarty, stars Reese Witherspoon, Nicole Kidman, Shailene Woodley, and a cast of all-stars, is a dark comedy based on three friends with a whole lot of secrets. If you have HBO, you can watch it on Hulu.
Arrested Development: Quirky in all of the right ways, this show has such a loyal following that after being cancelled on the heels of its third season, it was brought back to life for a fourth season to appease the masses. Rumors continue to swirl on wether there will be a fifth season or even a movie. Hubby and I can't wait.
One Tree Hill: I've actually only seen a handful of episodes, but so many friends of mine swear by this show, that I know it has to be well worth the watch. High school (and then college) drama full of pretty people; what's not to love?
Friday Night Lights: In a small town, high school football is everything. That and a whole lot of drama makes this fan favorite a show I definitely need to see. (Update: I'm on season two and I totally LOVE it.)
Scrubs: This show is so light and sweet and funny, mixed in with a little bit of hospital heartbreak, that we tend to put it on any time we're stuck on what to watch. If you love Zach Braff, you'll love this show.
Shameless: Oscar-nominated actor William H. Macy plays Frank Gallagher, a single father of six who spends much of his free time drinking at bars. The show is wild and dark and twisted, and though we've only just begun the first season, I already love each and every one of the over-the-top "hot mess" characters.
West Wing: Created by Aaron Sorkin, this political drama takes places within the fictional White House walls. The dialogue is brilliant, and you fall in love with each of the characters, with their own tangled lives and lofty political ideals. For what it's worth, this is hands-down one of my Dad's favorite shows, and he's a genius. Just sayin'.
New Girl: I can't help but feel like the first two seasons of this show were a bit stronger than the last few, though I hear it on good authority (my sister!) that the newest season is full of laughs. Either way, Zooey Deschanel, who plays Jess, is so cute I could scream. Want her dresses. All of them.
Dawson's Creek: O.M.G. I was so hooked on this show growing up. Although I was a Pacey girl all the way, there was something so sweet and earnest about Dawson and his puppy dog views on high school romance.
Californication: We only recently started this show, and although we're still only in season one, I'm already hooked. The show is perverse and raunchy and totally goes there, but it's highly entertaining. David Duchovny who plays Hank Moody, an alcoholic, womanizing novelist, is irresistibly awful and great.
Vampire Diaries: Just started this one and already, I love it. Some of the vampire scenes leave me a little jumpy (yeah, yeah, I'm a chicken!), but you just know the impending love triangle is going to be GOOD. Watch it on Netflix.
The Originals: Created as a spin-off of The Vampire Diaries, the series follows a family of power-hungry thousand year old vampires look to take back the city that they built and dominate all those who have done them wrong. Watch it on Netflix.
Catastrophe: This one is on Amazon Prime, and seriously, kudos to them for streaming such an ingenious new show. I can' believe how accurate (and hilarious) the conversations on modern day dating, marriage, and parenting are. Somewhat raunchy, with plenty of funny, this is one my husband and I binge the second each new season is released. Patiently awaiting Season 3 despite the fact that Season 2 just came out.
Felicity: Just thinking about this show brings back all of the feels. I could totally relate to shy girl Felicity when I used to anxiously await a new episode each week. Obviously well worth the trip down memory lane.
Broad City: Dying to watch this funny feminist take on life in your twenties. Plus, the show is produced by Amy Poehler, so obviously it's a winner.
Buffy the Vampire Slayer: Believe it or not, I have never seen Buffy, but its hoards of fans made me put it on my must-watch list stat. Basically a young Sarah Michelle Gellar is a Slayer, one in a long line of young women chosen for a specific mission: to seek out and destroy vampires, demons and other forces of darkness.
Daredevil: This is definitely a superhero show of the more gritty variety. Set in the Marvel universe, Daredevil follows Matt Murdock, attorney by day and vigilante by night. Blinded in an accident as a child, Murdock uses his heightened senses as Daredevil to fight crime on the streets of New York at night. Intense, but really, really good.
Charmed: Another cult favorite I have yet to see. I hear it's a must. A group of sisters discover they are witches; the good kind, that fights evil.
Friends: I'm not sure I've ever met a person who hasn't seen Friends. It was easily one of the best shows on television (especially when it ran from 1994 to 2004). Mostly I catch random episodes being re-aired on tv late at night and in hotel rooms, but I've been thinking lately how fun it would be to re-watch the series from start to finish.
Hart of Dixie: Okay, I was a little devastated when this show was canceled after only a four-season run. Big city doctor moves to a small-town; cheesy adorableness ensues, with added hot guy love triangle.
Orange is the New Black: It's a favorite for so many for a reason. The first two seasons felt stronger than the third, but the fourth season is on it's way and I have high hopes.
Weeds: Widowed suburbanite Nancy Botwin (Mary-Louise Parker, who is awesome, I might add!) starts growing and selling marijuana to make enough money to support her family after her husband's unexpected death leaves her in serious debt. This show gets so outrageous that by the last season my head was spinning, but you root for the sort-of bad guy and get sucked in, hook-line-and-sinker.
Breaking Bad: Speaking of rooting for the bad guy, my husband swears that this show does it better than any other show he's ever seen. He's been campaigning to get me to watch the series for years now. I'll probably cave.
Veronica Mars: Classic, adored show I have yet to watch but swear I'll get to one day. If you love Kristen Bell (and really, who doesn't?) this one is probably worth the watch.
Walking Dead: Alright, I'll admit it: I'm far too terrified to actually watch this show, but its legions of fans will swear otherwise. If you like zombies, and intense human connection, try this one on for size.
House of Cards: This one requires your full attention; a.k.a., my husband loves it and I'm "meh" about it, but so many people swear by this show, that I knew it had to be included.
The Crown: a biographical story about the reign of Queen Elizabeth II that attempts to humanizes the monarchy. They've only released one season, so you can easily get caught up, and fans are all agreeing: it's good. Watch it on Netflix.
13 Reasons Why: Truth talk: I've been too scared to watch this one. Not that's it's "scary," just sad and raw and real. The extremely popular, and somewhat controversial new Netflix original drama is about a young teen, Hannah Baker, and the 13 reasons why she commits suicide; i.e., intense bullying, sexting, betrayed friendships and loneliness of high-school.
Master of None: This comedy, written by and staring Aziz Ansari, follows the romantic, professional and cultural experiences and pursuits of Dev Shah, a 30-year-old actor in New York. The second season (10 episodes each) just debuted in May to much acclaim. We started in on the first season, and though I wasn't quite "hooked," everyone is so in love with this show, I'm definitely going to give it another go.
And though they're not on Netflix, Hulu or Prime, shoutout to Younger and Odd Mom Out, two new obsessions. Both are hilarious and witty and make me feel just a little less crazy. Fingers crossed they both hit our beloved streaming services soon.
So put on your yoga pants, grab a steaming cup of coffee or tea, and bunker down. It's high time for a binge-a-thon. (And yes, I'm shamelessly committed.)
Image via my Style Me Pretty Home Tour | Photography: Jeremy Harwell | Design & Styling: Jennifer Wurtzebach of The Chic Pad & Lexi Holzberg Kritzer of Glitter, Inc.